Activities and resources
We have some activities and games for you to explore below. Visit this page on a desktop computer for more.
Building the bridge
A rail bridge needs to be strong enough to carry Vlocity and classic fleet trains.
Experts called engineers design and build rail bridges so that trains can travel over obstacles such as roads and bodies of water like the Avon River.
The new Avon River rail bridge is a beam bridge
Beam bridges are held up by vertical columns, called piers. Machines called piling rigs are used to drill concrete piers deep into the ground to ensure the bridge has a strong foundation.
A crane is then used to install the deck on top of the piers and across the river.

Other types of bridges
There are other types of rail bridges engineers design and build, check them out below.

Cantilever bridges
A cantilever bridge is built using cantilevers, which are horizontal structures supported only on one end. In large cantilever bridges, the cantilevers can be built from structural steel or concrete box girders The Bolte Bridge in Melbourne is an example of a cantilever bridge.

Truss bridge
A truss bridge has extra support above the bridge like a cage called trusses to make it extra strong. Trusses come in lots of different patterns and shapes. The longest spanned truss bridge in the world is the Ikitsuki Bridge in Japan.

Tied-arch bridge
A tied-arch bridge uses a chord tying the arch ends to keep the bridge up. An example of a tied-arch bridge is the Fort Pitt Bridge in the United States.

Cable-stayed bridge
Cable-stayed bridges have one or two towers, to which cables are connected to hold up the bridge deck. The Westgate Bridge in Melbourne is an example of a cable-stayed bridge.

Arch bridge
An arch bridge uses an arch shape to spread the load of the bridge. People have been building arch bridges for thousands of years. There are many different types of arch bridge. The Sydney Harbour Bridge is an example of a through-arch bridge, because the bridge deck goes through the arch.
Did you know?
The new Avon River rail bridge is strong enough to carry the weight of 30 elephants.
The old Avon River rail bridge is over 130 years old.
Gippsland is home to many notable bridges including the Sale Swing Bridge, Noojee Trestle Bridge, Stony Creek Trestle Bridge and Corrigan Suspension Bridge.
Build your own bridge
See below for some photos of your bridge-making skills.
Apex Park competition
In late 2020, we held a competition with Stratford Primary School and St. Patrick's Primary School.
Students were invited to create a drawing, poster collage, poem or story (up to 500 words) around the theme 'My First Day at the New Apex Park'.
Congratulations to the students who won a voucher for a new bike or scooter from their local bike store.
We hope you enjoy using it on the new BMX/pump track soon.
See below some of the winning entries to the Apex Park competition.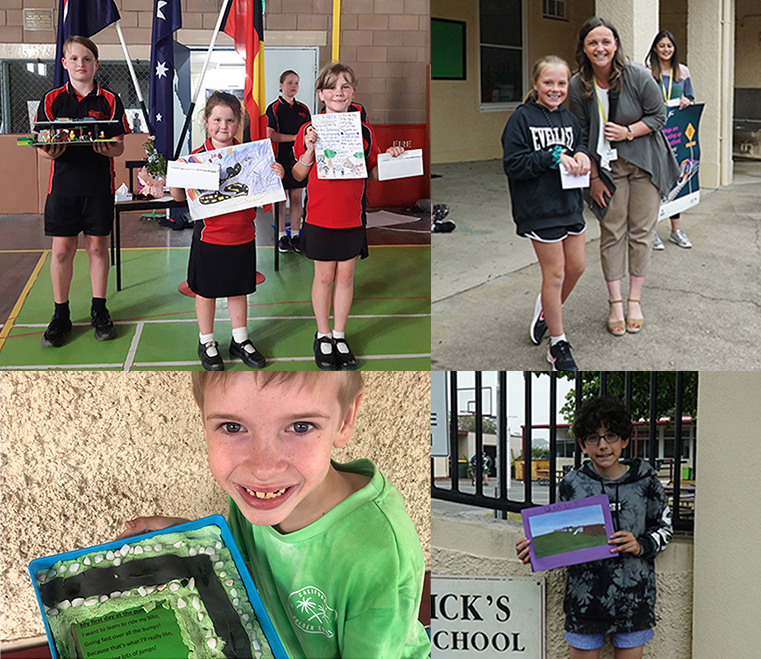 Learn more about construction
If you're interested in construction, the Metro Tunnel project is currently building twin nine-kilometre rail tunnels under Melbourne, with five new underground stations and high capacity trains.
You can learn more about the Metro Tunnel Project and also watch some videos.
Play Minecraft
Do you like the game Minecraft?
Any Minecraft user can download Mini Melbourne for free from the Department of Education's FUSE site and explore the sights and landmarks of the city.
It includes Melbourne's historic locations so you can design and decorate your own corner of Mini Melbourne!
Share your creations using #minimelbourne on Twitter, Facebook, Instagram or YouTube.
We'd love to see what you've created and will seek to incorporate the best builds as we expand and add more detail to the city in future releases.
Downloads
You can download and print the following resources to work on at home: