To ensure the safe completion of Metro Tunnel works there are temporary changes to some traffic routes in Kensington.
Extension of Childers Street closure
To enable the completion of utility works in the South Kensington station forecourt, the closure of Childers Street to public traffic and the use of the Derby and Tennyson streets detour for over-height vehicles (3.4m and above) accessing the Lloyd Street Business Estate (LSBE) was extended until 17 December 2021.
Due to unexpected services encountered during excavation for utility works, the reopening of Childers Street has been delayed until February 2022. Details of the new opening date will be advised closer to the date.
Residents can still access Childers and Tennyson streets (south of the truncation) via the detour route along Derby and Tennyson streets and Kensington Road. A boom gate is installed on Tennyson Street to provide access.
There may be short-term closures and traffic management arrangements required beyond February 2022 until the project's completion in 2025. Any additional closures will be managed in accordance with future works programs and with community engagement.
Why has the closure been extended?
The Childers St road closure was extended to 17 December 2021 to enable the completion of utility installation works at the South Kensington station entrance at the eastern end of Childers Street. Unexpected services encountered during these works have caused a delay to the construction program. While the majority of utilities and diversions works will be complete by December 2021, some finishing works will continue into February 2022.
Upcoming works include:
Completing utility diversion and connection works on Childers Street in front of the station entrance
Reinstating the Childers Street southern footpath and road surface
Removing the existing boom gates on Tennyson Street and replacing them with road barriers
Removing existing hoarding along the edge of JJ Holland Park and Childers Street.
Details and impacts of these works will be further outlined in the December construction update.
Responding to community feedback
We remain committed to addressing the following key themes that emerged from community feedback in 2020 upon the initial extension of the Childers Street closure:
Introducing additional traffic management safety measures to ensure all road users and pedestrians are aware of traffic conditions
Minimising the use of the detour overnight and reducing associated impacts from trucks
Providing additional vehicle monitoring during coronavirus restrictions and specific monitoring of all vehicle volumes on Derby Street
Providing detail on both the works that require the road closure extension and the traffic arrangements that will be in place after February 2022.
We encourage you to contact us if you have any further questions.
Reduced detour traffic at night
The project has worked closely with the Lloyd Street Business Estate (LSBE) to minimise vehicle movements overnight. A small number of vehicles will continue to use the detour overnight for necessary business.
We will continue to engage with garbage collection vehicles servicing the LSBE to minimise collections overnight.
We will continue to review works to ensure that truck numbers remain low. We encourage anyone to contact us if they would like to discuss this further.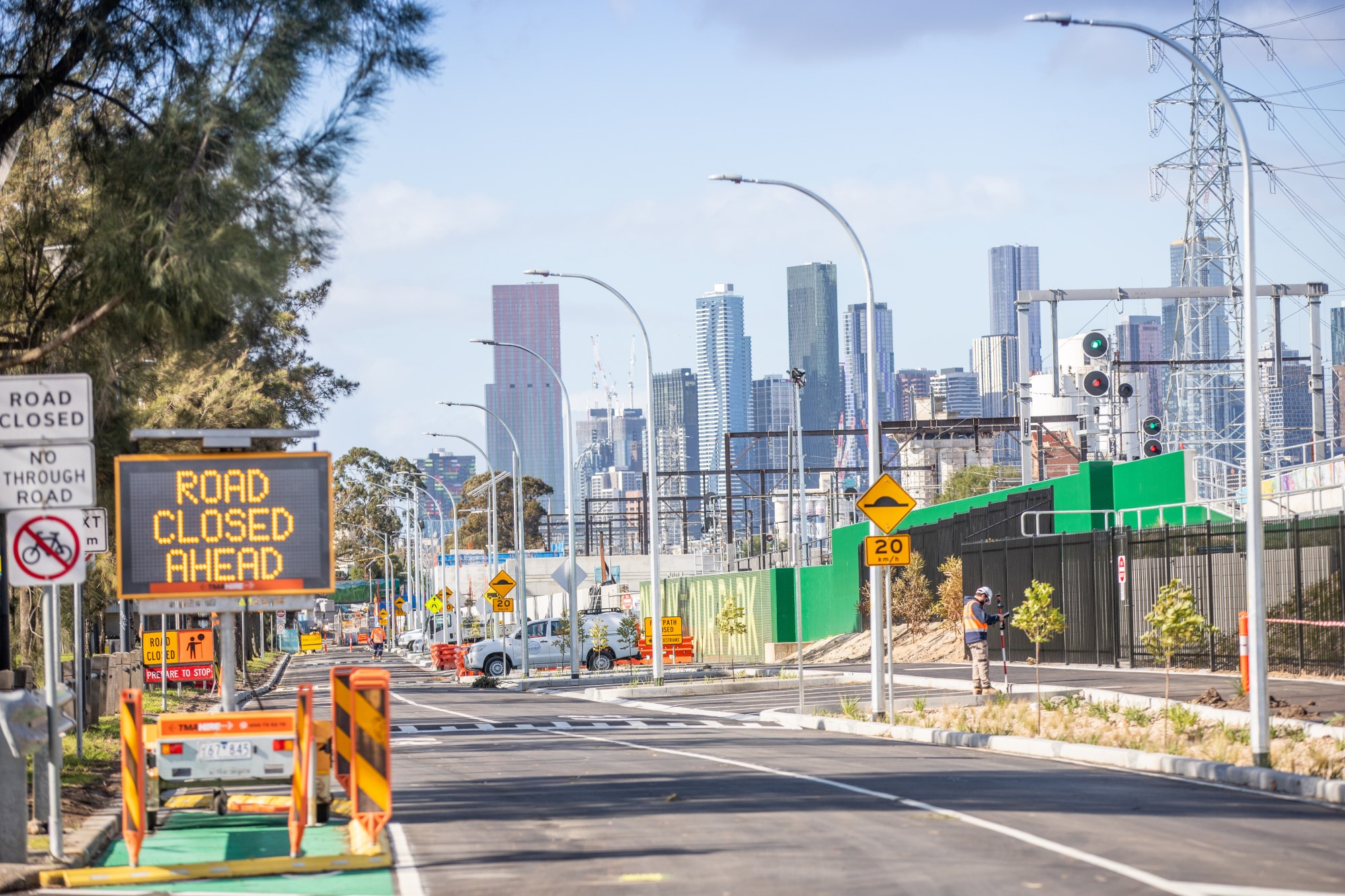 Getting around during construction
Pedestrians and cyclists
The shared use path on the southern side of Childers Street is temporarily closed to pedestrians and cyclists.
Pedestrians can use the pathway along JJ Holland Park on the northern side of Childers Street
Cyclists are detoured via Kensington Road and Altona Street. Wayfinding signage is in place.
Parking
Please note the car park at the corner of Hobsons and Kensington roads was closed at the beginning of 2021 to facilitate construction of new rail infrastructure, with the exception of two DDA-compliant parking spaces that remain available for public use. The project team is undertaking regular monitoring of parking on local roads while the Hobsons Road car park is closed.
South Kensington station
South Kensington station remains open, with no planned changes to access as a result of the utility works.