The new Arden, Parkville and Anzac stations and the entrances to the tunnels will be built using the cut and cover construction technique.
The technique works by putting a construction site (enclosed in an acoustic shed) located next to a diverted road as the proposed station box is built below.
Using excavation equipment, a large trench or rectangular hole in the ground is dug which is then covered by a concrete deck.
Once the deck is in place, surface activity can largely resume as construction works continue below.
During construction of the stations, poured concrete or pre-cast panels are used to form the various levels and internal structures, similar to the construction of the underground basements of high rise buildings.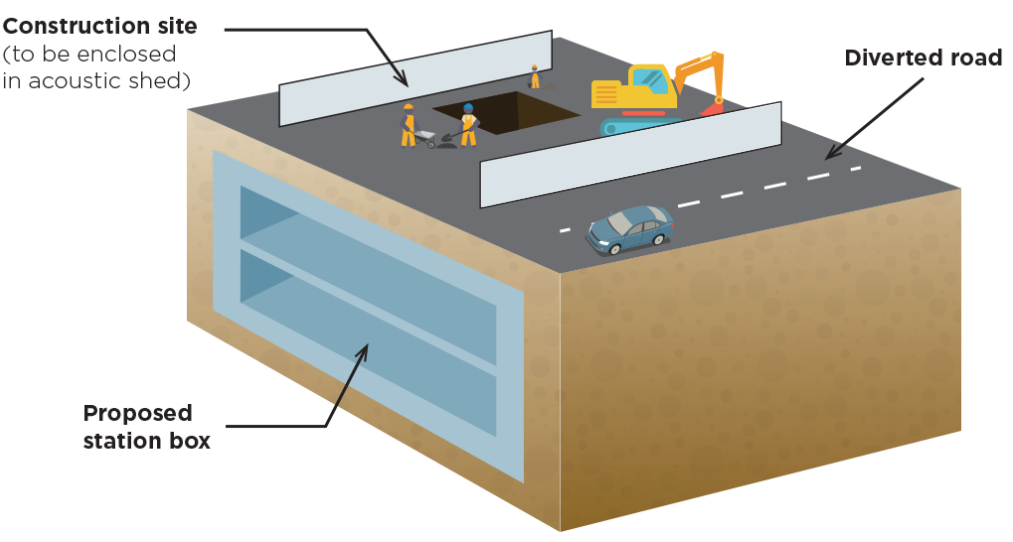 Cut and cover construction method
1. Installation of retaining wall
The underground retaining wall, which is usually a concrete diaphragm wall, is installed before excavation commences.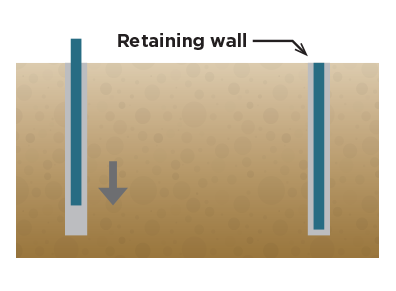 2. Excavation and installation of steel strut
The soil is excavated to just below the roof slab level of the underground structure. Struts are installed to support the retaining walls, which in turn support the soil at the sides.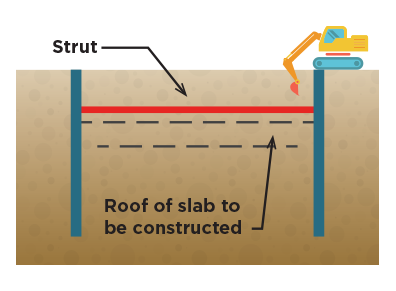 3. Installation of decking and roof slab
The roof slab is constructed and decking is installed at ground level. Vehicles can use the decking while construction takes place below
The roof slab not only provides a massive support across excavation, it also acts as a noise barrier. A roof opening is also constructed as excavation continues below.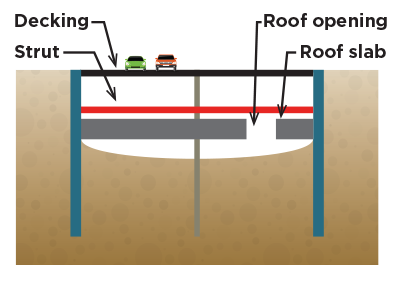 4. Construction of station box
The next level of slab is constructed with a opening and strut, then the process progresses downwards until the base slab is completed.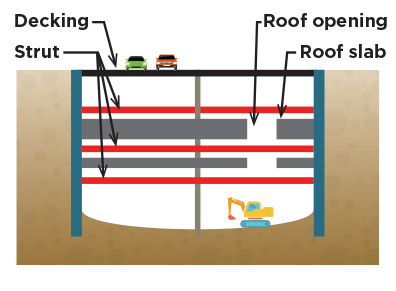 5. Installation of side walls and base slab
The side walls are constructed upwards, followed by removal of the intermediate struts below roof slab. The access openings on the roof slab are then sealed.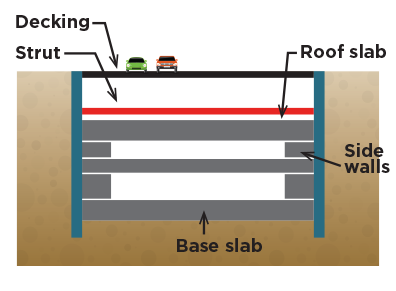 6. Backfilling and reinstatement
The soil is then backfilled to the top strut level before the strut is removed. This is followed by backfilling the top of the underground structure and reinstating the surface area including the road.