Works are underway to build an entrance to Town Hall Station at Federation Square.
The entrance will improve access to this important civic space as well as Southbank, the Arts Centre, St Paul's Cathedral and other culturally significant landmarks.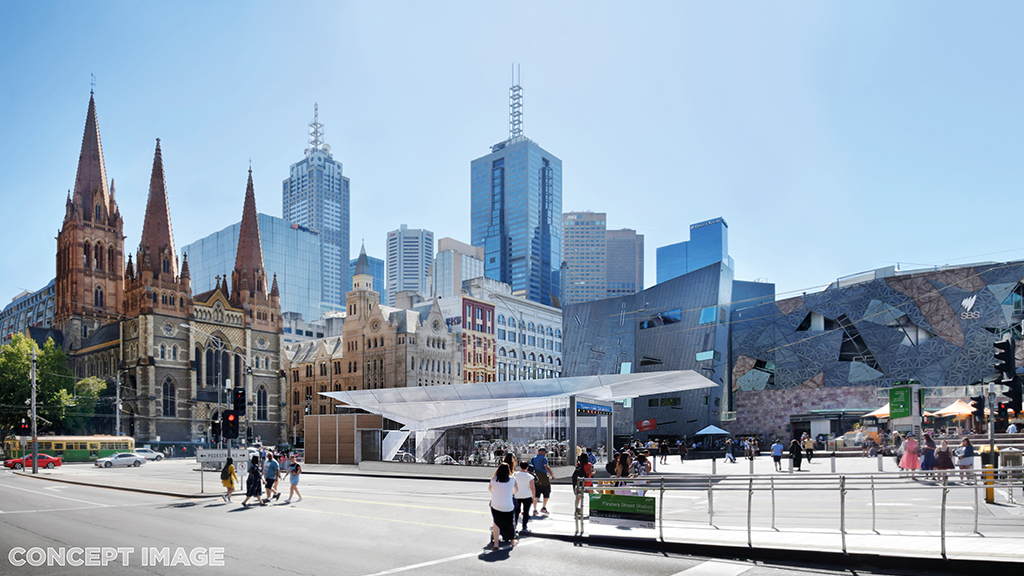 Current works at Federation Square
The former Melbourne Visitors Centre at the corner of Flinders Street and St Kilda Road was demolished in 2018 and 2019.
In its place is a temporary acoustic shed to allow construction works to take place 24 hours a day, protecting nearby businesses and residents from noise and dust impacts.
Beneath the shed, works to complete the new Town Hall Station and station entrance are continuing.
For monthly updates on works being undertaken at Federation Square, visit Current works at Town Hall Station.
Long-term traffic changes
The left-turn lane on Flinders Street closest to Federation Square is closed during construction
A lane is closed westbound between Russell and Swanston streets, 1 left-turning lane from Flinders Street towards St Kilda Road remains open
Motorists can expect peak time delays of up to 15 minutes when turning left from Flinders Street into St Kilda Road while the lane closure is in place
The left turn for traffic travelling northbound on St Kilda Road into Flinders Street is closed. Vehicles can access the west of the CBD by using Kings Way, Southbank Boulevard and Russell Street
Eastbound lanes on Flinders Street are closed between Elizabeth and Swanston streets
Public transport services won't be affected and cyclists will continue to have access to Swanston Street and St Kilda Road bike lanes
Access to properties and businesses will be maintained at all times.
Pedestrian changes
Long-term closure of the Flinders Street north-south pedestrian crossing between St Paul's Cathedral and Federation Square (refer to map)
A pedestrian crossing has been constructed on Flinders Street adjacent to Hosier Lane and the Federation Square atrium (refer to map)
A full closure of the footpath along Flinders Street next to Federation Square will be in place during construction, with an alternative route provided through Federation Square
Ongoing closure of the northern footpath on Flinders Lane between Swanston Street and Regent Place, with pedestrian diversion to the southern footpath
The existing kerb located on the Flinders Street northern footpath adjacent to Young and Jackson has been extended to accommodate additional pedestrian traffic
Intermittent closures of small sections of the pedestrian walkways on Elizabeth, Swanston, Russell, Flinders and Collins streets, Flinders and Princes walks, Rainbow and Banana alleys, and Boathouse Drive to enable groundwater monitoring
Signage and wayfinding has been installed around the hoarding to safely direct pedestrians
From 30 April 2022, Campbell Arcade and the Degraves Street Underpass is closed for up to 2 years to finish construction of a new pedestrian underpass.