Works are ramping up around the CBD, but it's business as usual for your favourite shops.
Flinders Quarter
The Flinders Quarter is a precinct identity created by the Metro Tunnel Project, aimed at supporting the residents and businesses impacted by construction of the new Town Hall Station.
Stretching from Swanston Street to Elizabeth Street, and Flinders Street to Collins Street, the Flinders Quarter is home to iconic Melbourne landmarks such as Degraves Street and the Nicholas Building.
The area has played host to a number of bespoke Flinders Quarter activations, including the Festival of Independents and the Augmented Art Walk.
The heart of Melbourne's original rag trade and now home to thriving coffee and dining culture, bars and restaurants, the Flinders Quarter is quintessentially Melbourne.
You can find more information on the Flinders Quarter website, and via its Facebook and Instagram pages.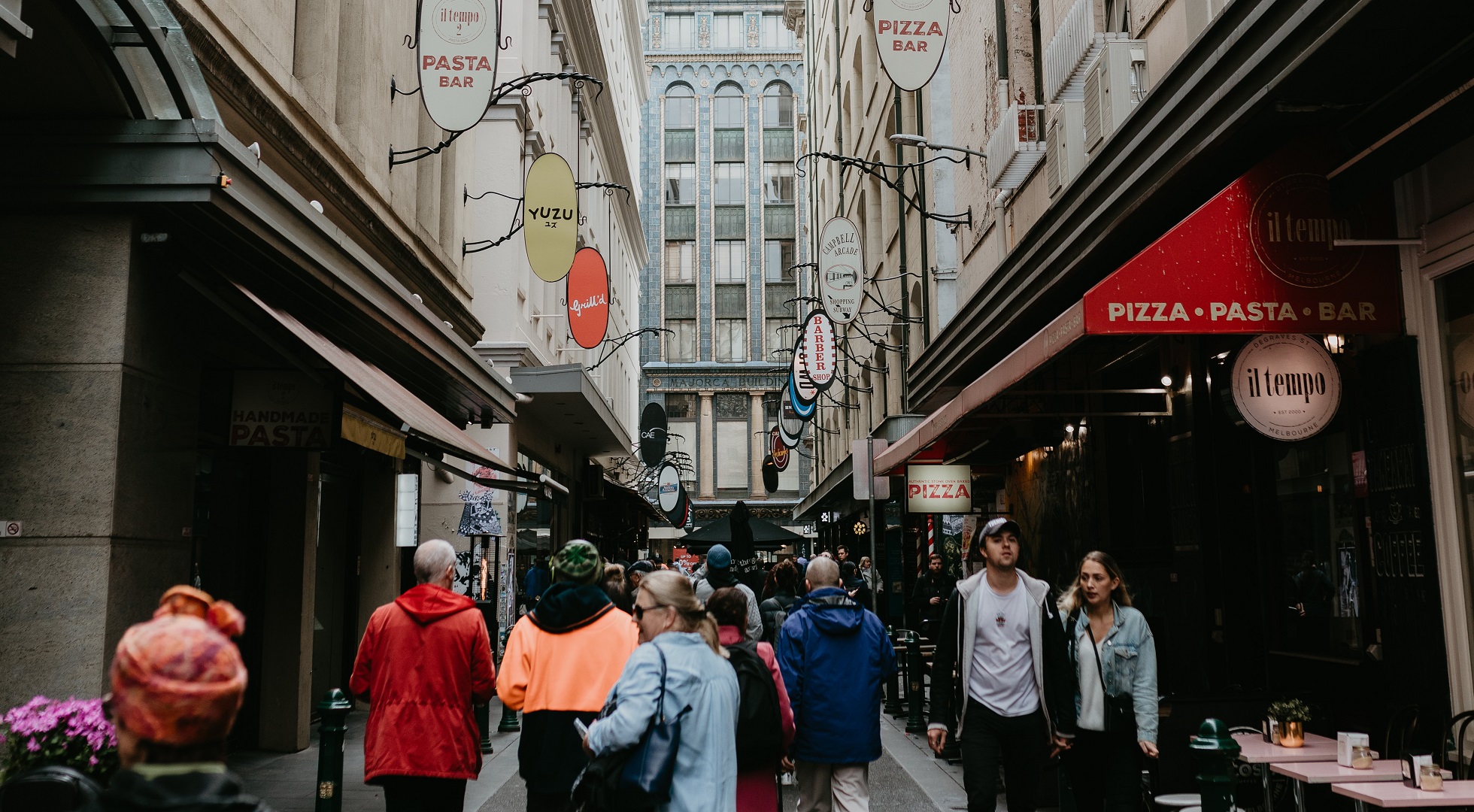 Businesses in our Town Hall Precinct
| Business name | Description | Address |
| --- | --- | --- |
| Cathedral Coffee | Tucked away inside the Cathedral Arcade, Cathedral Coffee Roasters serves Ethiopian single origin and Acevedo espresso roast to a steady stream of creative types. Whether you're looking for a quick pick-me-up, or want somewhere to enjoy your sacred lunch break, there's gozlemes, chicken schnitzel rolls and a delectable selection of sweet treats sure to to satisfy! | 9/37 Swanston St |
| RetroStar Vintage Clothing | RetroStar Vintage Clothing is home to an extensive range of vintage clothing, shoes and accessories. Specialising in the 1940s through to the '80s, it's a curated gallery of psychedelic prints, floaty dresses and vintage denim from around the world. | Nicholas building, First Floor, 37 Swanston St |
| Kuwaii | Kuwaii produces beautiful, intelligently designed clothing and footwear for women as an alternative to mass-made fashion. Kuwaii incorporates locally produced fashion with ethical design and production techniques. In addition to the clothes and shoes, the store offers a carefully sourced selection of vintage and locally-designed jewellery. | 37 Swanston St |
| Vintage Sole | Vintage Sole provides quality used clothing as an ethical alternative to fast fashion. Vintage Sole aims to bridge the gap between eccentric retro and on-trend vintage clothing, footwear, and accessories. Their stock includes a variety of cowboy boots and Levi jackets, mixed with a curated selection of contemporary trends. | Cathedral Arcade, 6/37 Swanston St |
| Arthur Daley's | Arthur Daley's on Swanston Street is a discount retailer that meets the needs of the budget-conscious. The shopping basement is modelled on the department store bargain basements of yesteryear. Whether you're after Halloween outfits, cutlery, or craft goods, Arthur Daley's will surely have it! | 37 Swanston St |
| Dean's Souvenirs Australiana | Dean's Souvenirs Australiana has a great selection of tourist items – from Ugg boots to boomerangs and plush toys. Don't forget to head downstairs as well to browse their enormous collection of didgeridoos. | 2A/37 Swanston St |