For the latest on traffic changes and impacts, visit the Project update page.
Overview
CPB Contractors have been awarded the contract to deliver the $518 million M80 Upgrade between Sydney Road and Edgars Road. Major construction started in early 2020 and is scheduled for completion in early 2023.
The M80 Ring Road is one of Melbourne's busiest and largest freeways, spanning 38 kilometres between Laverton North and Greensborough.
We're delivering the M80 Upgrade in stages to minimise disruption to motorists and residents.
What we're doing
adding new lanes in each direction between Sydney Road and Edgars Road
installing a smart freeway lane management system to better manage traffic flow
extending the Sydney Road on and off ramps to give drivers more time to merge
building new on and off ramps at Edgars Road to improve safety
improving access from the Hume Freeway to the M80 Ring Road and Edgars Road
installing ramp-metering technology to manage the flow of traffic onto the freeway
upgrading the cycling and pedestrian bridge.
What the M80 upgrade will achieve
provide more reliable journeys for more than 165,000 motorists each day
improve travel times
improve safety by minimising merging
provide better access to other freeways, interstate links, local and arterial roads and the future North East Link
improve traffic flow
reduce congestion during peak hours
enhance freight efficiency for over 22,000 trucks each day
provide better access to employment hubs.
Video
Watch the video below to see how we're providing safer and more reliable journeys with the M80 Upgrade.
Maps
Sydney Rd to Edgars Rd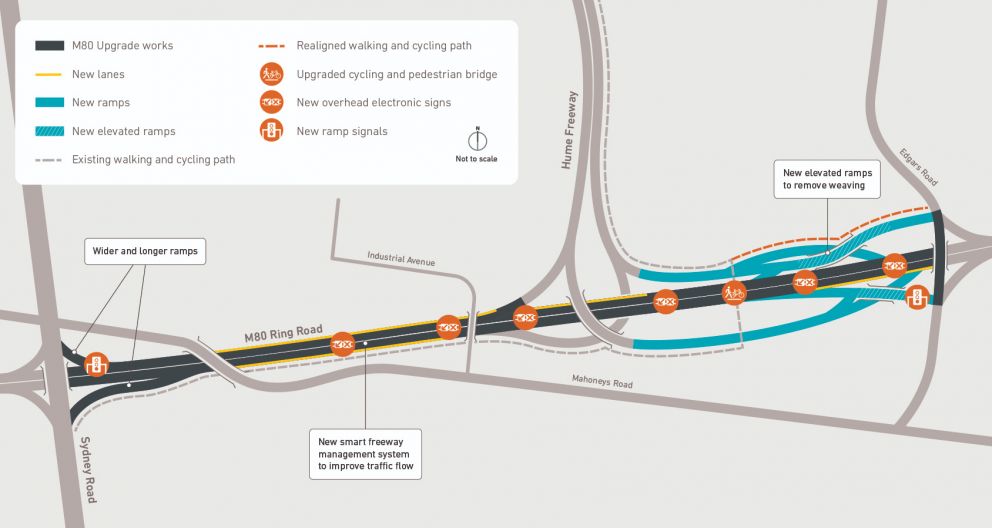 View a larger version of the Sydney Rd to Edgars Rd upgrade overview map (PDF, 135.0 KB)
Between Princes Freeway and Greensborough Highway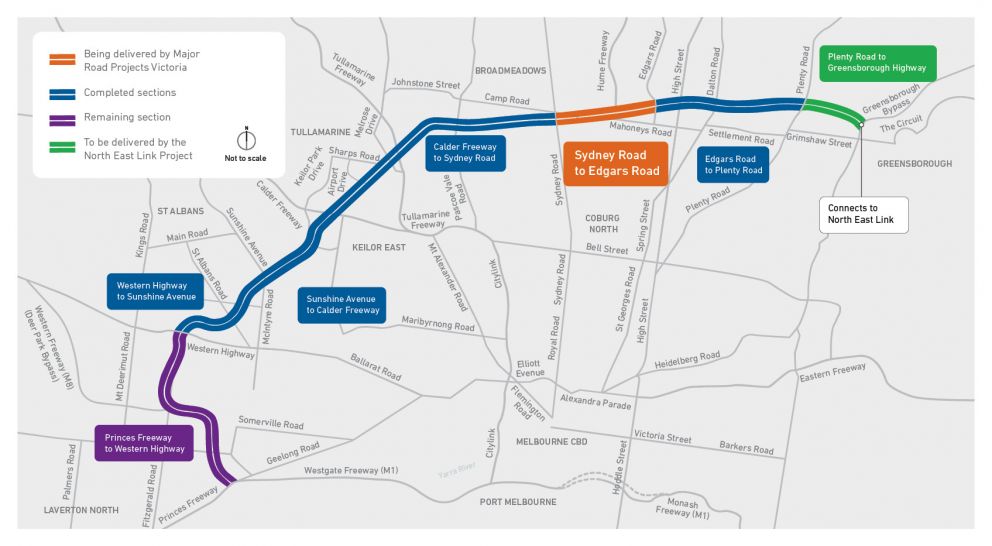 View a larger version of the M80 Upgrade map between Princes Freeway and Greensborough Highway (JPG, 254.4 KB)