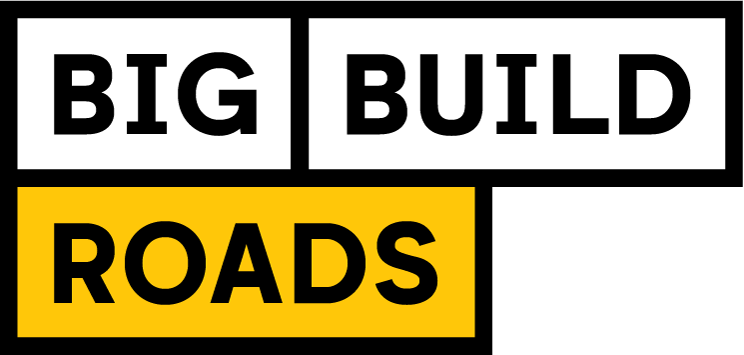 Did you know we've upgraded over 50km of walking and cycling paths as part of the Western Roads Upgrade and made it quicker and safer to ride to the city?
Whether you're a regular commuter cyclist or looking to pop out for a quick ride or walk, here are some ways you can get out and about to catch the final weeks of summer.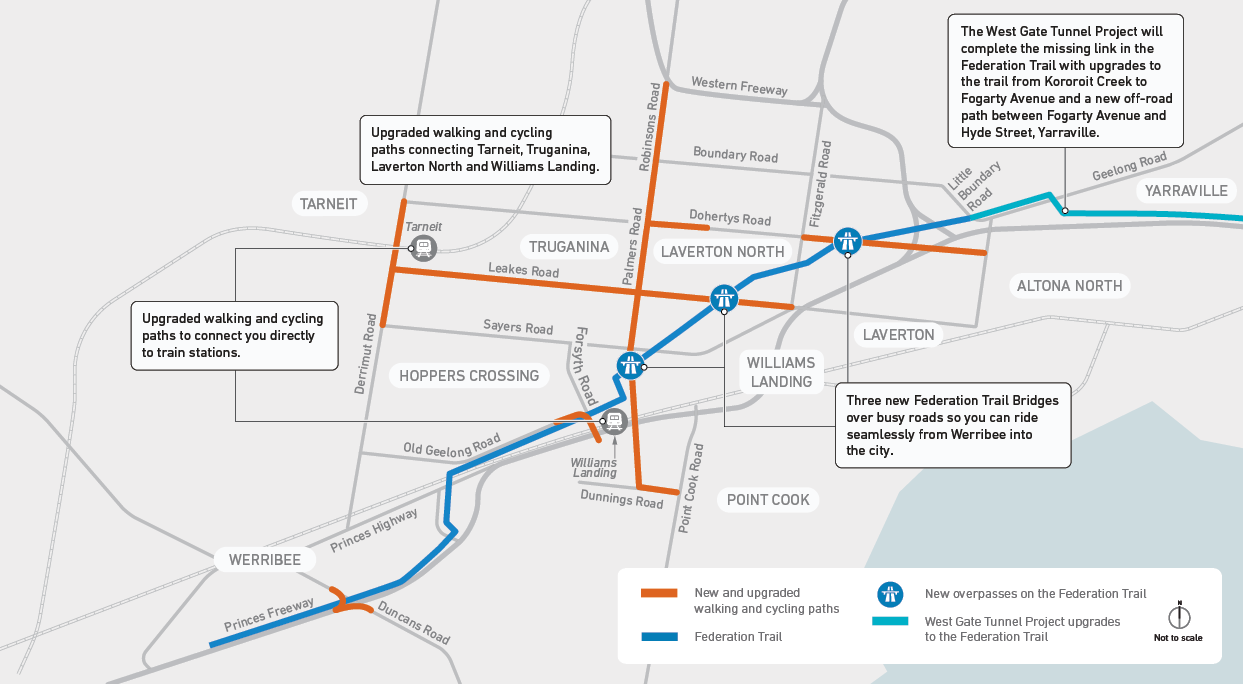 View a larger version of the map (PDF, 144.4 KB)
Direct connections between Werribee and Laverton North
You can take the Federation Trail (also called the Fed Trail) to ride between Werribee, Hoppers Crossing, Williams Landing and Laverton North via the upgraded Duncans, Forsyth, Palmers, Leakes and Dohertys roads interchanges and cycling paths.
The Fed Trail features three new walking and cycling bridges over the Palmers Road, Leakes Road and Dohertys Road. These bridges keep riders separated from cars, saving up to 10 minutes on travelling times and making the journey safer and easier.
Connections from Point Cook to Williams Landing and Truganina
You can travel between Point Cook and Williams Landing along the upgraded cycling and walking paths along Palmers and Dunnings roads, which are separated from the road for much of the route.
This path also connects you to Williams Landing Station where you can catch a train to the city. From Williams Landing you can continue to the Fed Trail, or to the business and freight employment hubs in Truganina or Derrimut via the separated cycling and walking paths along Palmers Road.
Travelling between Tarneit and Truganina
Upgraded walking and cycling paths along Derrimut and Leakes roads in Tarneit connect you to Tarneit Station, where you can catch a train to the city or Geelong.
From Tarneit, you can also take the dedicated bike paths along Leakes Road towards the city to get to Williams Landing, or onto the Federation Trail.
Upgraded connections to the city
Works are underway to add more than 14km of new and upgraded walking and cycling paths as part of the West Gate Tunnel Project. These works will complete the missing link in the Federation Trail with a new off-road bike path between Fogarty Avenue and Hyde Street in Yarraville.
Progress is also being made on a new separated shared use path along Dynon Road which will provide a new, dedicated bridge to make it safer and easier for pedestrians and cyclists to cross Moonee Ponds Creek and the rail lines, linking up with the broader cycling network.
Once the project is complete, you'll also be able to travel between Footscray and Docklands on a new 2.5km veloway from Shepherd Bridge to the city side of Moonee Ponds Creek.
To find out more about future walking and cycling improvements, and to take a virtual trip on the veloway, visit the West Gate Tunnel project website.
Current disruptions
Please note that the Federation Trail is temporarily closed between Banfield Court and Palmers Road, until 5pm Wednesday 15 March 2022 for Leakes T&P sewer works. You can find out more about these closures by visiting the Leakes T&P website for the latest disruption information.