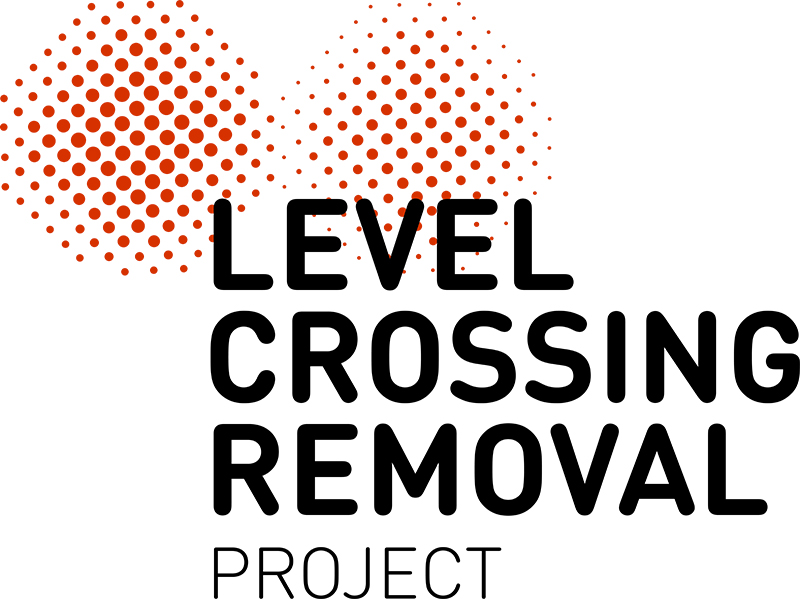 Say hello to Glenroy's newest artwork – a sculpture reflecting the former boom gates at Glenroy Road has been installed in the linear park along Hartington Street, as part of the landscaping works following the removal of the level crossing in May.
The sculpture on the corner of Hartington Street and Glenroy Road is made from steel tubing and stands around 5.5 m tall. The sculpture reflects a celebration of connection, culture, infrastructure and information. The colours represent the past, present and future, with the yellow and green reminiscent of the flower and foliage of the Munong (Yam Daisy). The red and white reflect the iconic striped boom gates while the black and white represent the high contrast signage of the old level crossing.
The artist, Tom Borgas, was selected to design 2 pieces of art; one design for the screens on the new Glenroy Road bridge over the rail trench, and one sculpture.
Both designs reflect Glenroy's heritage, particularly the floral pattern on the road bridge which highlights the flora and foliage of the Murnong (Yam Daisy) previously found in the area.
In designing the artwork, the artist said it was a place where people, infrastructure, information and culture connect.
In more great news for Glenroy locals, construction on Waterloo Road has been completed, and the Station Road car park is open.
Works are continuing on Dowd Place and the western station entrance, which is due to open later this year, which will see the completion of landscaping and new car spaces.
The Glenroy level crossing marked the 60th level crossing to be removed, by lowering the rail line under Glenroy Road. The new premium Glenroy Station features 2 lifts, as well as stairs access to each lowered platform, a comfortable waiting area with city views, undercover seating and improved lighting.