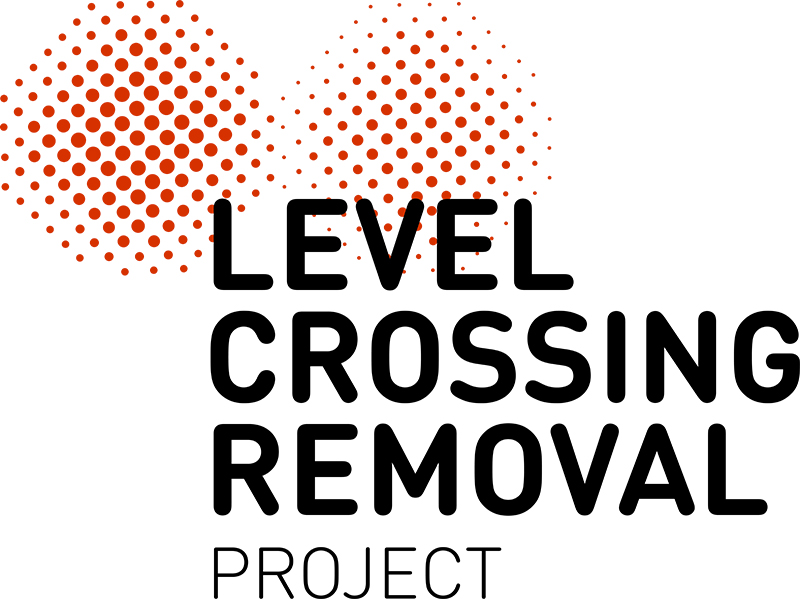 Students at St Margaret's Berwick Grammar created 6 unique artworks in Term 1 of 2022 for display at the Clyde Road Level Crossing Removal Project.
The artworks will be on display on hoarding around Berwick Station's southern car park until the new bus interchange opens in late 2022.
These talented young artists explored themes ranging across identity, community and local history in their works. You can read more about each work below.
Created by Year 9 Students Sienna F, Anna M, Kiara G and Shiva P.
Our initial inspiration was based on Van Gogh's Starry Night. We wanted to appropriate an iconic image to create a link to an artwork and to celebrate the new Clyde Road underpass in Berwick. We selected this painting to reflect that although the new road underpass is a significant change it doesn't dominate the landscape and fits into the whole community and environment.
Although it made the process significantly more complex, we hand painted paper and then cut and placed each piece individually to create the collage. The swirling night sky and the train at night convey the sense of celebration of this new addition to the Berwick Community.
Created by Year 9 students Caoimhe K and Lauren N.
This collage represents the past, present and future of Berwick's Railway Station. We were influenced by Old Berwick and the new level crossing development which we wanted to incorporate into our art piece. We chose this idea as we were drawn to the community and change in Berwick.
We were unsure on how we were going to start our creation and had difficulty deciding if we wanted to create a realistic or graphic design and if we wanted to use paper or paint. Our final decision was to create a collage and go for a more animated and graphic design.
The significance of our design if that it has historical relevance and includes the progression of technology, while acknowledging the historical significance to Berwick Station. We went for a narrative transition for the design to celebrate the history of Berwick Station and its role in the community and how the change effects it today.
Created by Year 9 and 12 students Yiorgos M, Oliver P, James B and Menula W.
After conducting a group brainstorm of ideas, we all agreed that a 'set' of designs that aesthetically belong with each other was what we wanted to create. We wrote down the 'non-negotiable' concepts that needed to be included in the overall designs and came up with the idea of basing it around the Monopoly board game.
We decided to use that as a springboard for our art and show that silhouettes and conceptual digital designs are recognisable, as well as representing the local train station and suburb.
Created by students of class 6JC.
Students of class 6JC created an artwork featuring students' individual emblems across a large gumtree, which is a unique feature to the heritage of the St. Margaret's Berwick Grammar school landscape.
A background of puzzle pieces painted in the school colours represents connection and the student's sense of their class and school being united.
Created by students of class 6DL.
Students of class 6DL created a symbolic representation of their place within Australia. Individually, students created their own artistic representations of themselves, exploring their strengths and interests creatively.
The school colours of St. Margaret's Berwick Grammar (S.M.B.G) were used as the abstract patterned background of gold, blue and red and lined the shape of Australia with their names, indicating all students who contributed to this beautiful artwork.