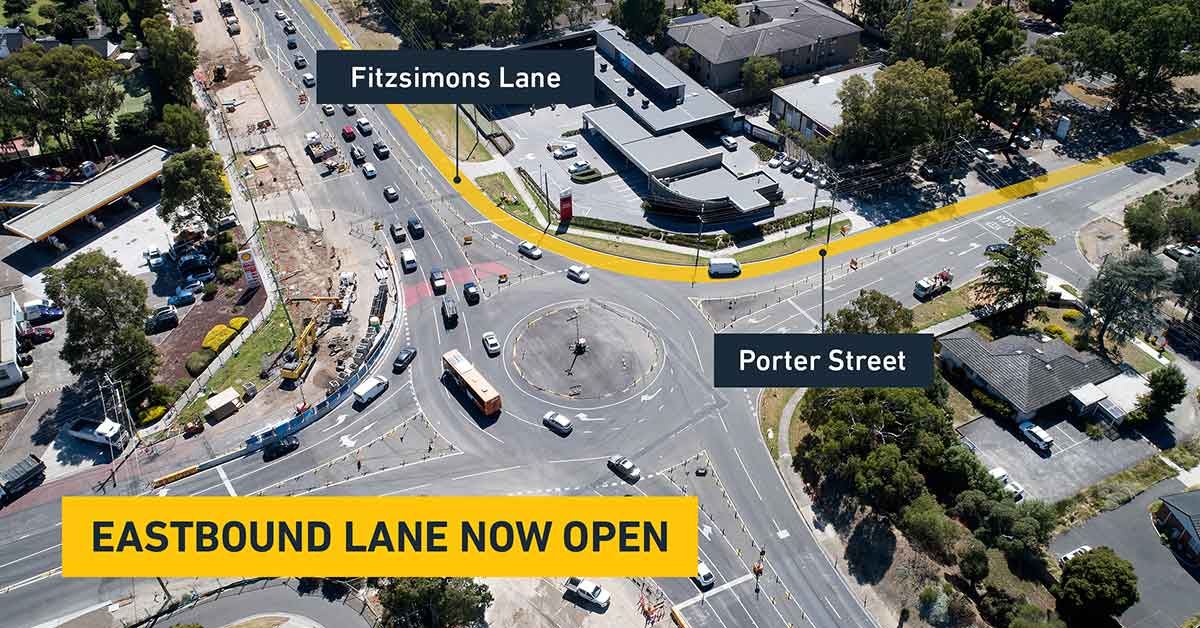 The Fitzsimons Lane Upgrade is forging ahead this autumn in Templestowe, with major works on track to signalise the Porter Street intersection.
From today (Wednesday 11 May 2022) an eastbound lane re-opened at Porter Street for those travelling towards Warrandyte. The lane re-opening comes almost 4 days ahead of schedule.
Construction crews are working around-the-clock until 5pm Sunday 12 June 2022 to:
remove the roundabout
install traffic lights
conduct associated kerb and channel works
drainage works
build footpaths
conduct earthworks
replace pavement
conduct line-marking
install lighting.
What to expect
A partial road closure remains at the Porter Street intersection on the eastern leg for those traveling from Warrandyte.
A detour remains in place via Warrandyte Road, Blackburn Road, Reynolds Road and Foote Street. Please see electronic messaging signs for details.
Entry to Water Tunnel Car Wash, BlueCross Silverwood and MarketPlace Fresh will be left in, left out only from Fitzsimons Lane onto Porter Street towards Warrandyte.
North and south travel along Williamsons Road and Fitzsimons Lane remains open.
The speed limit is reduced to 40 kmph through the area and traffic management is in place.
Emergency vehicles will have full access through the works at all times.
Bus services are continuing through the intersection.
With restrictions on traffic movements throughout the major works period, motorists are encouraged to plan ahead and allow extra time for their journey. Expect delays of up to 20 minutes during the morning and afternoon peaks.
By the time winter arrives, the temporary roundabout will be gone and the upgraded intersection will be open. Finishing works – including asphalting, line-marking and signage works – will continue throughout 2022.
The upgrade will also improve reliability of public transport with the introduction of bus prioritisation signalling.
Once traffic lights are installed at Porter Street, the project team will then turn their attention to major construction to upgrade the Foote Street intersection in Templestowe.
For more information or to sign up for updates, visit the Fitzsimons Road Upgrade - Porter Street page.
Major Road Projects Victoria