A world-first trial to capture geothermal energy in the foundations of the Metro Tunnel's new State Library Station could start a revolution in clean energy to keep buildings warm in winter and cool in summer.
The trial, a finalist in the Premier's Sustainability Awards, found building foundations can be used as a thermal 'battery' to capture renewable energy for use. The potential emissions savings are equivalent to taking hundreds of cars off the road each year.
It involved a team of researchers burying plastic pipes inside concrete foundation piles that were then installed 40m underground as part of a retaining wall during the early months of construction on the new station.
With the ground remaining at a stable temperature throughout the year, water pumped through the pipes absorbs heat from the ground in winter, and releases heat into the ground in summer.
When the water comes back to the surface, the change in temperature can be used to efficiently heat or cool the building.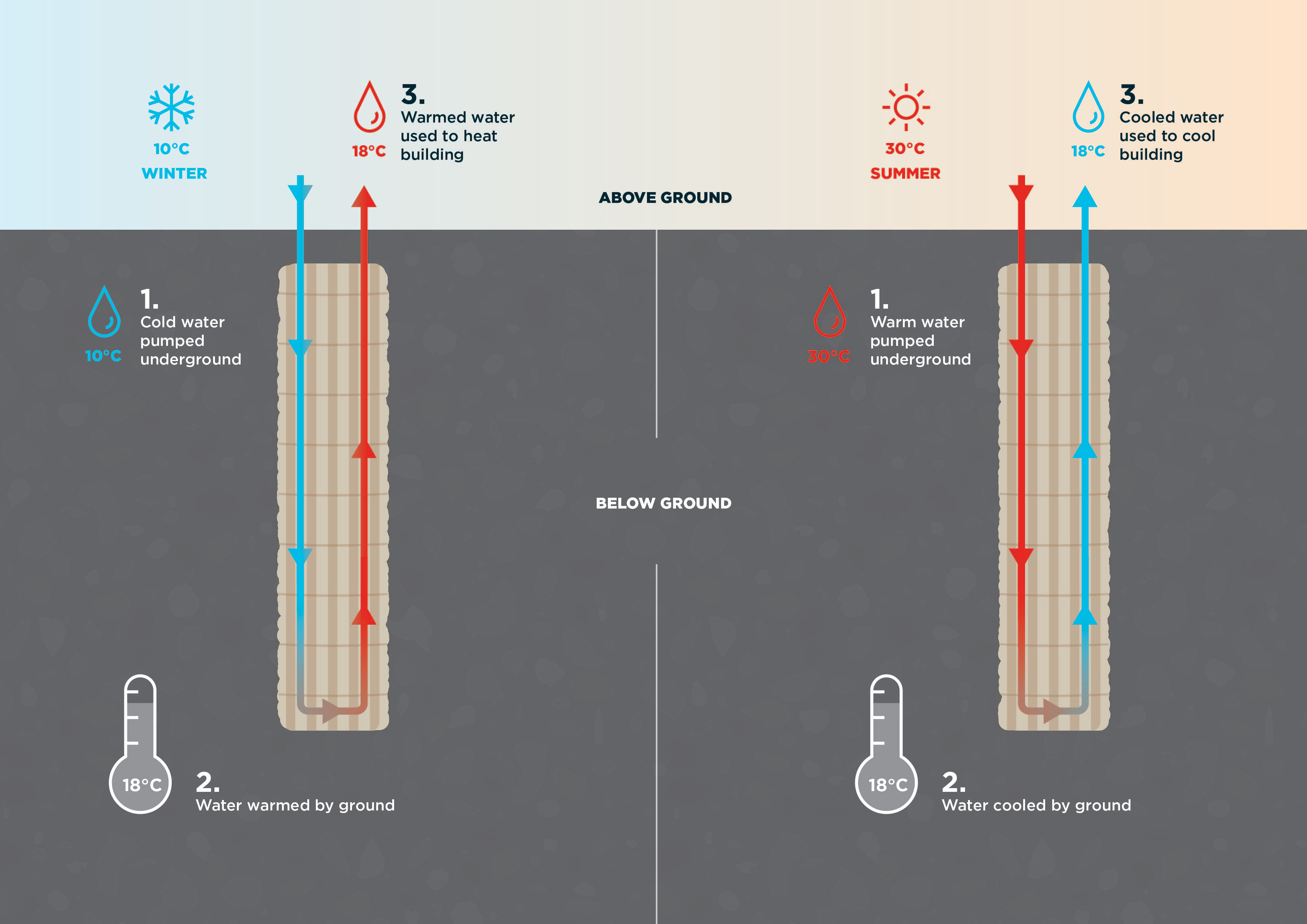 Geothermal heat exchange diagram
Over the past 4 years, researchers have used sensors to test different scenarios, varying the flow of water through the pipes and the number of pipes used at a time to find the most energy-efficient method, while also checking the change in temperature did not affect the retaining wall.
The trial found a train station such as State Library Station could use the system for all its heating and cooling needs – and even help warm and cool the buildings surrounding it.
The research was led by a team from the University of Melbourne's Faculty of Engineering and Information Technology, in partnership with Metro Tunnel Project delivery agency Rail Projects Victoria and its construction contractors CYP Design & Construction.
It's part of a massive effort by the Metro Tunnel team to embed sustainability across the project, including diverting between 72 and 90% of construction waste from landfill, installing 170kW of solar panels on the Arden Station entrance building and the Sunshine Signal Control Centre, and even a trial to wash and re-use safety gloves.
Learn more about Metro Tunnel construction.