Stage One station locations identified
The proposed locations of six new underground train stations have been identified as part of the advanced stages of planning for Stage One of Suburban Rail Loop, from Cheltenham to Box Hill.
The starting point of the new line will be near Southland Shopping Centre, underneath Sir William Fry Reserve. Other Stage One Stations will also be situated adjacent to Monash and Deakin universities, central to the Box Hill and Glen Waverley activity centres and north of Carinish Road at Clayton - where a transport super-hub will connect regional passengers to the loop.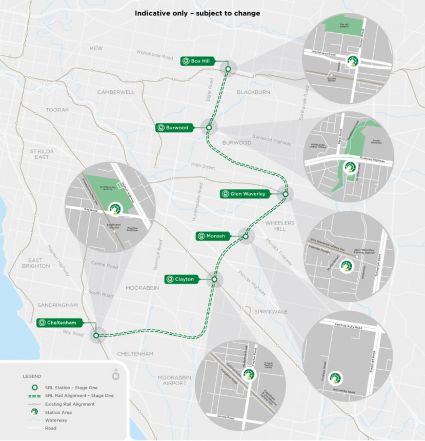 The proposed station at Cheltenham will connect people to one of the largest shopping and employment hubs in the South of Melbourne and provide a passenger interchange to the existing Southland Station on the Frankston line.
Clayton will become the busiest suburban stations in Melbourne will trains running in four different directions, and a connection to Suburban Rail Loop from Melbourne's busiest train corridor. A transport super-hub, the underground station will give Gippsland, Cranbourne and Pakenham line passengers direct access to employment, health and education precincts across Melbourne.
The proposed underground station at Monash is situated just north of Monash University, providing a much needed rail connection to one of Australia's largest educational and employment precincts – the biggest jobs centre outside of Melbourne's CBD.
In the heart of Glen Waverley's activity centre, the proposed station will slash travel times for locals. It will be a major interchange for people heading to Monash, Deakin and La Trobe universities and will have a direct connection to the existing station.
At Burwood, the station will deliver an important travel connection for more than 30,000 Deakin University students and staff and will connect local residents to Melbourne's train network. The proposed Burwood station will become an interchange with the 75 tram, giving residents along that corridor to Vermont South a new connection to the city and locations across Melbourne.
And at Box Hill, another busy rail interchange will be created, with local residents having trains coming and going from four different directions. The proposed underground Suburban Rail Loop station will provide brand new connections for Belgrave Lilydale line passengers to locations including Monash, Deakin and Latrobe universities, as well as Melbourne Airport. It will become a major connection for residents of Doncaster and Burwood commuting into the city.
Landowners and tenants of up to 300 properties that fall within an 'area of interest' for the six stations have received letters explaining that no final decisions have been made on the station footprints but alerting them to the possibility they may be directly impacted. We anticipate being in a position to confirm impacts in the coming months, although properties will not be required for some time. Letters are also being sent to people in the broader project corridor to alert them to the fact there may be some increased project-related activity, such as ground investigations, in their areas.
The preferred station locations and refined 26 kilometre rail tunnel alignment between Cheltenham and Box Hill have been determined following 18 months of intensive project development and design, almost 300 geotechnical investigations and engineering assessments, as well as consultation with local stakeholders.
These sites will now be subject to a concentrated geotechnical drilling program and further stakeholder and community engagement to determine the precise underground station footprint and station entrances.
Melbourne - east
Suburban Rail Loop