Overview
The Bellarine Peninsula's biggest road infrastructure project, the Drysdale Bypass is now open. The Drysdale Bypass stretches 6km from Jetty Road to the north of Whitcombes Road.
The upgrade provides many benefits to locals and visitors including:
fewer trucks on High Street, making the centre of Drysdale safer
less congestion at peak times at the intersection of Portarlington, Grubb and Jetty Roads
a shared walking and cycling path along the bypass, plus additional paths to connect to existing ones
a new pedestrian underpass providing safer access for students linking the town centre with the education, arts and sporting precinct on Peninsula Drive
a new 25-metre arch bridge over the Bellarine railway line and rail trail, featuring a striking arch design and a split stone finish which is in keeping with the aesthetics of the Drysdale landscape
smoother and more efficient travel along the Bellarine Peninsula, especially during holiday season.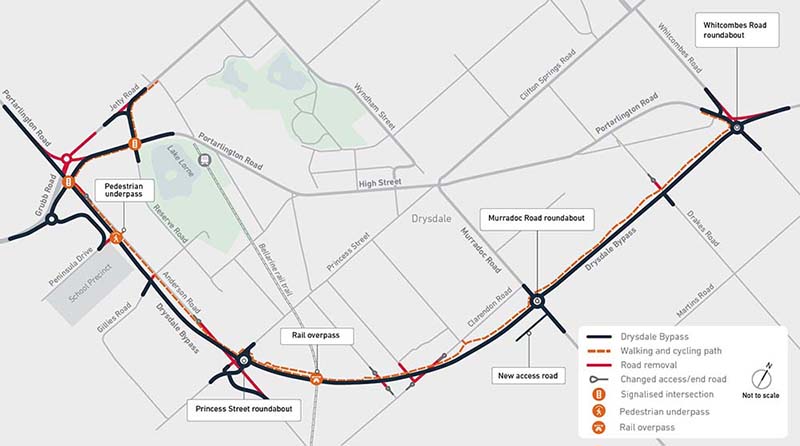 View a larger version of the map (PDF, 243.7 KB)
Drysdale kids amazing dig
Tools used for hunting, cutting and scraping were just some of the unique Aboriginal artefacts found by 500 students from four schools in Drysdale prior to the upgrade.
Pedestrian underpass
School students on the Bellarine Peninsula played a crucial role in the completion of the Drysdale Bypass pedestrian underpass, by choosing the series of inspirational words now etched into the wall.
The uplifting words cast into the walls, include "believe and achieve", "dream", "inspire", "be yourself", "smile", and "be the difference", and were chosen by students from St Thomas Primary School, St Ignatius College and Bellarine Secondary College.
It's the final piece of the puzzle in the completion of the underpass, which links Drysdale with the education, arts and sporting precinct on Peninsula drive.
The artwork design was the result of extensive community feedback, giving local school children a sense of ownership on this important community asset.