Stage 1
We've added 30km of extra traffic lanes to the Monash Freeway as part of Stage 1. We've widened the freeway from:
four to 5 lanes in each direction, between EastLink interchange and South Gippsland Freeway
two to 3 lanes in each direction, between South Gippsland Freeway and Clyde Road in Berwick.
We started work on Stage 1 of the Monash Freeway Upgrade in September 2016 and we completed it in June 2018.
Stage 2
We commenced construction for Stage 2 in early 2020 and completed major construction end of 2022.
For Stage 2, we:
added 36km of new lanes on the Monash and Princes Freeways, between:

Warrigal Road and EastLink outbound
EastLink to Springvale Road inbound
Clyde Road to Cardinia Road, in both directions.

connected Police Road to the freeway with an outbound entry-ramp
connected the Jacksons Road outbound ramps directly to EastLink with a separate road
installed smart, on-road technology across the project, including extending the lane-use management system from the South Gippsland Freeway to Beaconsfield interchange
upgraded the Beaconsfield interchange to a diamond interchange, and added an inbound freeway exit-ramp and an outbound freeway entry-ramp
opened the new O'Shea Road extension between Soldiers Road and Princes Freeway
built a shared walking and cycling path along O'Shea Road between Clyde Road, Berwick and the Princes Highway, Beaconsfield.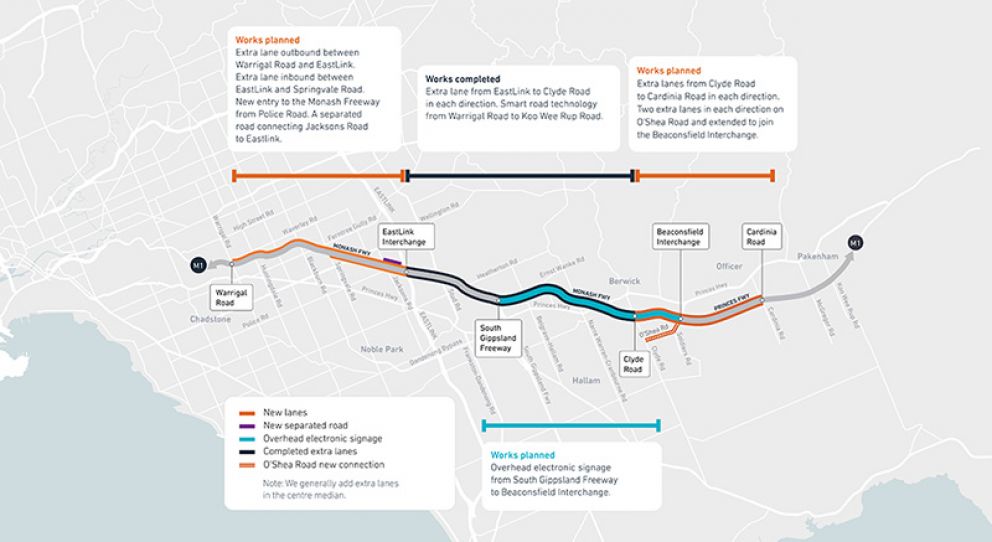 View a larger version of the Monash Freeway upgrade project overview map (PDF, 527.1 KB)
Video
See our video showing works completed as part of Stage 2 of the Monash Freeway Upgrade.