The Victorian Government has committed to removing 75 dangerous and congested level crossings by 2025. With 47 already gone the project is ahead of schedule so another 10 have been added to make it 85 level crossings gone by 2025.
We're getting rid of more frustrating boom gates across Melbourne's transport network.
We're removing level crossings at:
Warrigal Road, Mentone
Parkers Road, Parkdale
Keon Parade, Keon Park
Bedford Road, Ringwood
Dublin Road, Ringwood East
Coolstore Road, Croydon
Webb Street, Narre Warren
Station Street, Beaconsfield
Brunt Road, Beaconsfield
Calder Park Drive, Calder Park
Holden Road, Calder Park (closure)
Progress Street, Dandenong (closure)
Station Street, Officer (closure)
Cave Hill Road, Lilydale (closure)
Removing these crossings will improve safety, reduce congestion, allow more trains, more often and create hundreds of extra jobs.
Level crossing-free train line
We're making the Lilydale and Cranbourne/Pakenham lines level crossing-free by 2025.
Creating level crossing-free train lines will change how we live, work and travel. With no level crossings, train journeys will be faster and local roads safer.
We're also getting rid of more boom gates on the busy Belgrave, Frankston, Mernda and Sunbury lines.
Removing more crossings, creating more jobs
We'll remove these next 10 level crossings while construction crews are already out on the ground nearby getting rid of other dangerous and congested level crossings. This will reduce disruptions, maximise delivery efficiencies, create more jobs and mean more level crossings can go sooner.
A huge benefit is that they can be added to existing projects and contracts which means they can be gone by 2025.
Importantly, the benefits for jobs and small businesses can be realised as soon as possible – when we need them and as the economy recovers.
Removing extra level crossings will create 4000 new jobs across Melbourne
2100 people will work on the 10 new sites
1900 people will support the manufacturing supply chain
5 new stations
We'll build brand new stations at:
Croydon
Keon Park
Narre Warren
Parkdale
Ringwood East
Level crossing removals and new stations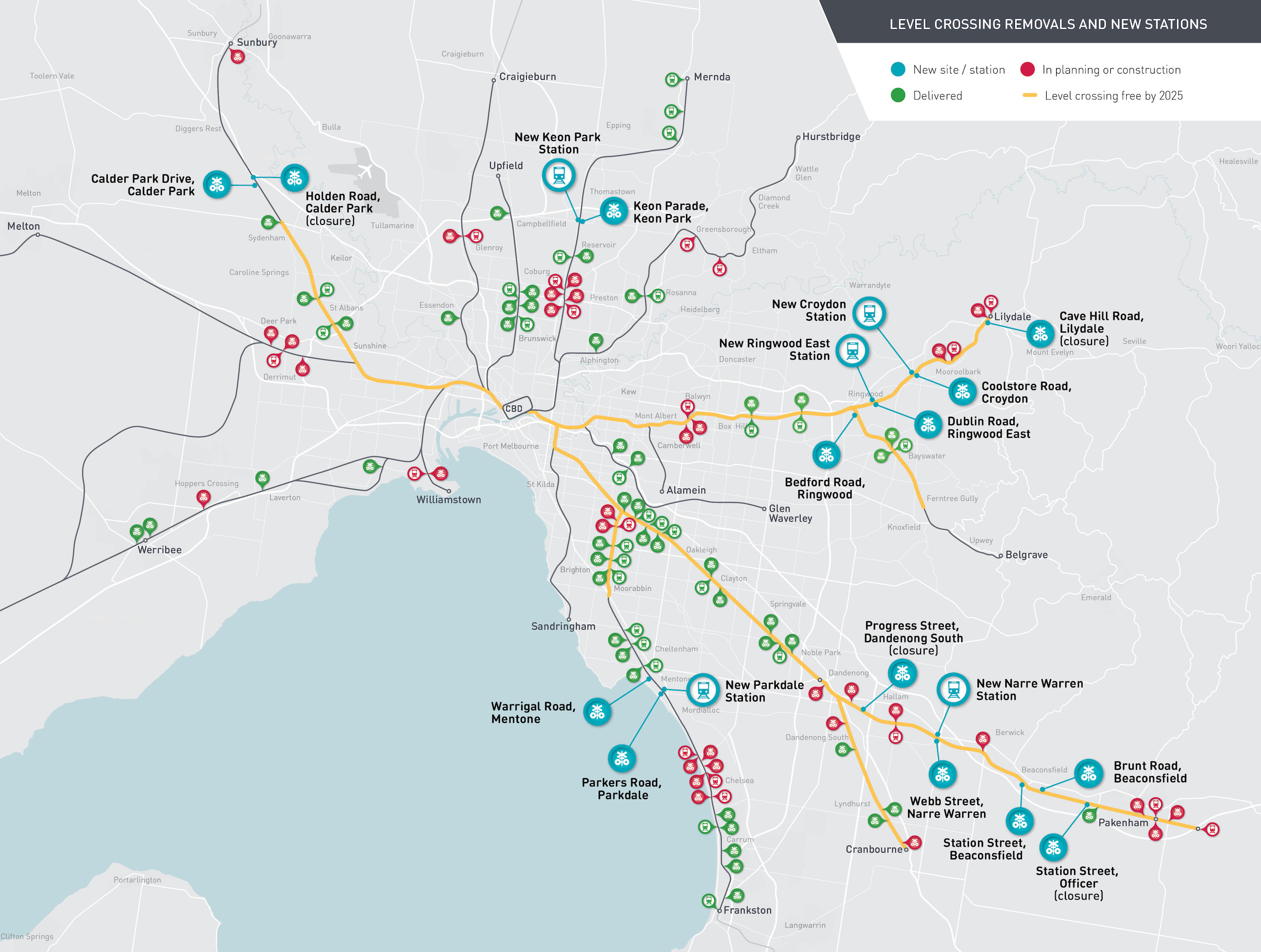 ---
Since we started in 2015 we've:
Removed 47 level crossings
Improved safety and reduced congestion
Built or upgraded 26 stations
Created 20 MCGs worth of open space and will deliver 50km of new walking and cycling paths.
Delivered our projects on time and on budget
Design and next steps
Initial technical assessments indicate the following design solutions will deliver the best outcome for the community.
We'll build a new rail trench under the road* at Bedford Road in Ringwood and Dublin Road, Ringwood in East.
We'll build a new rail bridge over the road* at Keon Parade in Keon Park, Warrigal Road in Mentone, Parkers Road in Parkdale and Coolstore Road in Croydon.
We'll build a new road bridge over the road* at Brunt Road and Station Street in Beaconsfield and at Calder Park Drive in Calder Park.
We'll build a hybrid design* at Webb Street in Narre Warren that will lower Webb Street and build a rail bridge over the road.
* Further engineering assessments and community engagement will be undertaken on these projects.
Early works on these level crossing removals will start in 2021 and will be delivered by 2025.