We're getting rid of more dangerous and congested boom gates on the Frankston Line.
The Victorian Government has committed to removing 75 dangerous and congested level crossings by 2025. With 47 already gone the project is ahead of schedule so another 10 have been added to make it 85 level crossings gone by 2025.
We're removing 20 level crossings on the Frankston Line. 11 are already gone, 7 are going and now we have added another 2 including:
Warrigal Road, Mentone
Parkers Road, Parkdale
Removing these crossings will improve safety, reduce congestion and allow more trains, more often.
These removals will not only create new jobs but importantly will give locals better access to work, healthcare, schools and services.
Site analysis
These 2 level crossings clog local roads and put lives at risk.
Current network plans involve running more trains along the line, which would mean even more boom gate downtime.
Around 40,000 passengers travel on the Frankston Line each weekday.
Together with the Metro Tunnel, we'll create room for 36,000 more passengers every week on the Frankston Line during peak periods.
Works are now underway to build 3 new stations and remove 5 level crossings in Edithvale, Chelsea and Bonbeach.
We're also preparing to remove 2 level crossings and build a new station in Glen Huntly, with major construction to start in 2022.
Due to the proximity of these new sites to level crossing removal works already underway, it makes sense to get these crossings done now while crews are out on the ground. This will mean we can get rid of the crossings as soon as possible.
New station
A new station will be built at Parkdale as part of the crossing removal.
Site facts
Approximately 20,000 vehicles travel through these crossings each day
Boom gates are down for up to 44 minutes of the morning peak (7am to 9am)
34 trains during the morning peak (7am to 9am)
---
Level crossing removals and new stations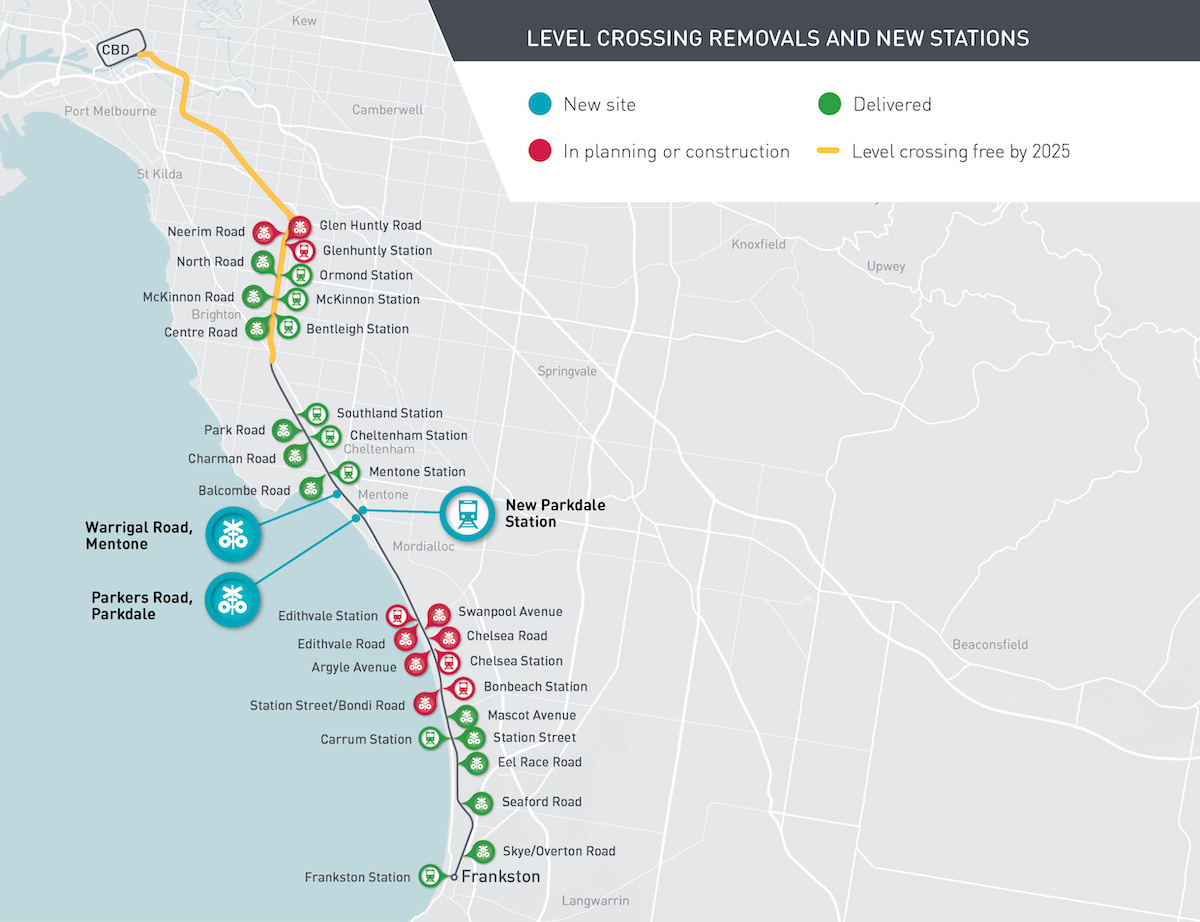 Crossings removed
North Road, Ormond
McKinnon Road, McKinnon
Centre Road, Bentleigh
Charman Road, Cheltenham
Park Road, Cheltenham
Balcombe Road, Mentone
Mascot Avenue, Bonbeach (closure)
Station Street, Carrum
Eel Race Road, Carrum (closure)
Seaford Road, Seaford
Skye/Overton Road, Frankston
In planning or construction
Glen Huntly Road, Glen Huntly
Neerim Road, Glen Huntly
Edithvale Road, Edithvale
Station Street, Bonbeach
Chelsea Road, Chelsea
Argyle Avenue, Chelsea
Swanpool Avenue, Chelsea
New crossing removals
Warrigal Road, Mentone
Parkers Road, Parkdale
---
Project benefits
We're removing 20 level crossings on the Frankston Line and building 13 new stations by 2025.
More than $3 billion is being invested in upgrades to the Frankston Line
Removing these crossings allows more trains to run more often and eases road congestion
By 2023, the line will be crossing-free between the city and Moorabbin
The new Parkdale Station will have better facilities for passengers including more lighting and CCTV
We'll create around 2 MCGs worth of new open space underneath the new elevated rail bridges as part of this project.
Design and next steps
Initial engineering and technical assessments have determined a rail bridge over the road* to be the best solution at Warrigal Road and Parkers Road.
Additional benefits of this design include opportunities for more open space, bike paths, recreational facilities, car parking and local connections across the rail corridor. It also allows for the level crossings to be removed as soon as possible.
* Further engineering assessments and community engagement will be undertaken on these projects.