Overview
Planning has identified the need to develop the Geelong Ring Road Extension (Bellarine Link) in multiple stages to address immediate growth needs at:
Baanip Boulevard (Surf Coast Highway) to Barwon Heads Road
Barwon Heads Road to Portarlington Road.
The Victorian Government allocated funding in the 2021-22 Budget to progress planning for the next stage of the Geelong Ring Road Extension, between the Surf Coast Highway and Barwon Heads Road.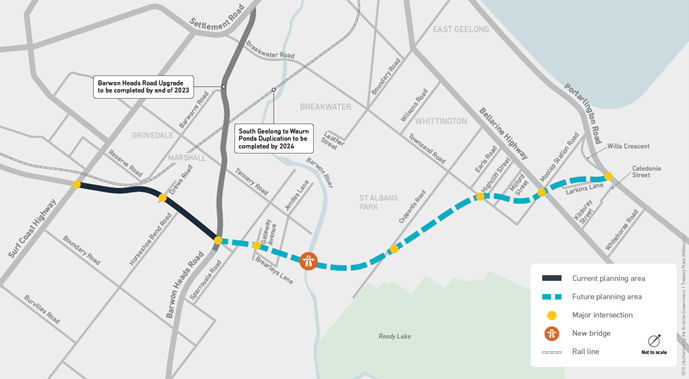 View a larger version of the map (PDF, 131.6 KB)
Status
We're undertaking planning and development work to inform the next stage of the extension.
This includes traffic modelling, planning studies and environmental investigations which will help us understand any potential environmental and social impacts, develop design options and confirm scope and costs.
As part of our current planning, we're investigating:
the construction of a new road link between Surf Coast Highway and Barwon Heads Road
upgraded intersections at Surf Coast Highway, Drews Road and Barwon Heads Road
new walking and cycling paths to improve connectivity.
We're seeking solutions to:
provide efficient access to the Geelong Ring Road
reduce congestion and improve travel times
improve safety
provide sustainable and inclusive transport options.
Thank you to everyone who took the time to provide feedback in our engagement held from Monday 29 November to Tuesday 14 December 2021. For more information including what we heard visit Engage Victoria.
Timelines and milestones will be determined through this detailed planning work and a Business Case is being developed and is anticipated to be finalised in 2022.
We're working closely with key stakeholders to ensure the project integrates with planned and future projects including the Barwon Heads Road Duplication and the South Geelong-Waurn Ponds Rail Duplication.