Access changes to Princes Freeway from Berwick and Beaconsfield
As part of Stage 2 of the Monash Freeway Upgrade, we're improving the way you access the Princes Freeway from Beaconsfield and Berwick.
From Tuesday 31 May the new outbound entry and inbound exit ramps at the Princes Link Highway will be open. This means the following changes:
Joining the Princes Freeway from Beaconsfield
Motorists from Beaconsfield who want to travel outbound on the Princes Highway will be able to use the new Beaconsfield interchange outbound entry ramp.
Exiting the Princes Freeway at Beaconsfield in the inbound direction
Motorists travelling inbound on the Princes Freeway will be able to exit at the new Beaconsfield Interchange exit ramp.
When it opens, motorists will only be able to travel eastbound on the Princes Link Highway towards the Princes Highway.
In mid-2022, the O'Shea Road extension will be completed, allowing traffic to flow from O'Shea Road to Beaconsfield Interchange and onto Princes Freeway, providing Berwick locals a direct connection to Beaconsfield for the first time.
Overview
As part of stage 2 of the Monash Freeway Upgrade, we're upgrading O'Shea Road to reduce congestion and provide easier access to the Princes Freeway.
As part of the project, we're:
upgrading O'Shea Road to 3 lanes in each direction between Clyde Road and Soldiers Road
extend O'Shea Road to join the Beaconsfield interchange
upgrading the Beaconsfield interchange to a full diamond interchange – we're adding an inbound freeway exit ramp and an outbound freeway entry ramp
adding traffic lights at Skyline Way, Bridgewater Boulevard and Soldiers Road, including pedestrian crossings
upgrading the intersection at Clyde Road
upgrading and extending the shared walking and cycling paths along O'Shea Road, including a new pedestrian bridge over the Pakenham railway line.
The design for the O'Shea Road Upgrade was independently audited to ensure that it met road safety requirements.
The updated design includes:
adding centre median openings at Moondarra Drive, Riveria Drive and Jembecca Drive
adding safety barriers from Greaves Road to beyond the Beaconsfield interchange
adding new road lighting on Greaves Road and O'Shea Road
planting approximately 43,000 Australian trees, plants, shrubs and ground cover between Greaves Road and the Beaconsfield interchange.
Once complete, the upgrades on O'Shea Road and the Beaconsfield interchange will:
reduce congestion and travel times
improve traffic flow
take pressure off Clyde Road
make it easier to travel around the local area and join the freeway
make it easier and safer to walk and cycle around the local area
improve the flow of public transport.
The development of the design has been guided by the VicRoads Noise Policy, Air Quality Screening Tool and Safe System Assessment Tool.
Major construction works commenced on O'Shea Road mid-2021 and be completed in 2022.
Interactive map
Use the O'Shea Road Upgrade interactive map to find out more details about the project.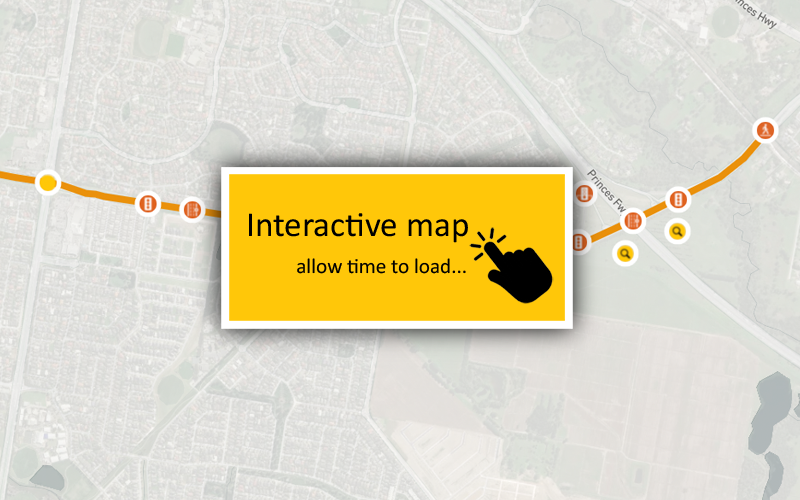 Image gallery