Overview
The Princes Highway East Upgrade will add 43km of new dual lanes to the Princes Highway between Traralgon and Sale, which is being delivered in 3 stages.
We've completed stages 1 and 2 of the upgrades, with 31 km of new lanes added to the Princes Highway and 22 intersections upgraded.
The Australian and Victorian Governments invested $260 million for the first 2 stages of the upgrade, which included the duplication of 9 sections of the highway. These 9 sections are now complete.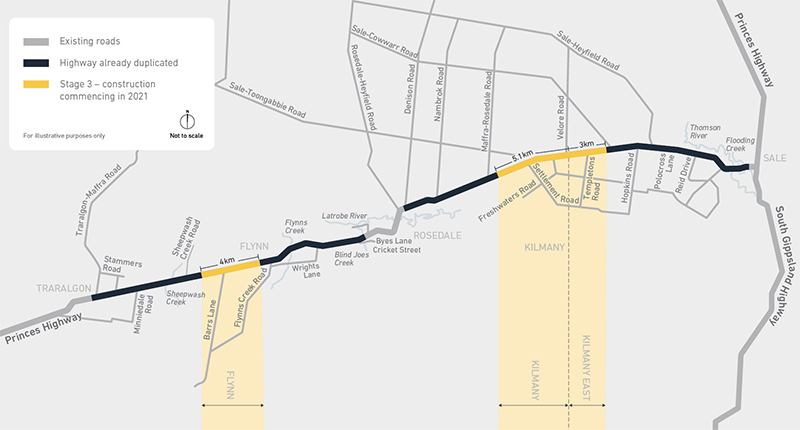 View a larger version of the map (PDF, 149.4 KB).
Stage 3
The third and final stage of the Princes Highway East upgrade will add an extra 12km of consistent 2 lane highway, delivering a total of 43km of duplicated highway across the three stages of the project.
The new lanes will bring immediate safety improvements for up to 15,000 motorists who use this stretch of road every day and improve journey times between Traralgon and Sale.
A range of safety improvements will be delivered including, wider shoulders and center median with flexible safety barriers to improve safety by reducing the risk of run-off road and head-on crashes.
This stretch of road is also a gateway to a range of Gippsland tourist destinations including the snowfields and Gippsland Lakes. The project will make travel safer for day-trippers and holidaymakers, helping the region recover from the devastating bush fire season, through increased tourism.
The Princes Highway East upgrade is due to be completed in 2024.
As part of the project, we'll:
strengthen the existing highway, install safety barriers and tactile edge lines
provide regular U-turn facilities
upgrade an additional 6 intersections including dedicated turning lanes
add 2 additional lanes to provide a consistent dual lane highway with a central median at:

Flynn: east of Sheepwash Creek Road to west of Flynn's Creek Road
Kilmany: east of Maffra-Rosedale Road Nambrok to Velore Road
Kilmany East: east of Velore Road in Kilmany to east of Templetons Road.

improve local road and private access to the highway, including a service road in the Kilmany township
construct a new 95-metre-long, single-span, steel arch rail bridge at Kilmany.