We're building new underground stations in Melbourne's CBD at each end of Swanston Street.
The new Town Hall Station will improve access to some of Melbourne's most iconic tourist destinations including Federation Square, Southbank, Arts Centre Melbourne, St Paul's Cathedral and other culturally significant landmarks.
Town Hall Station will open in 2025.
Station location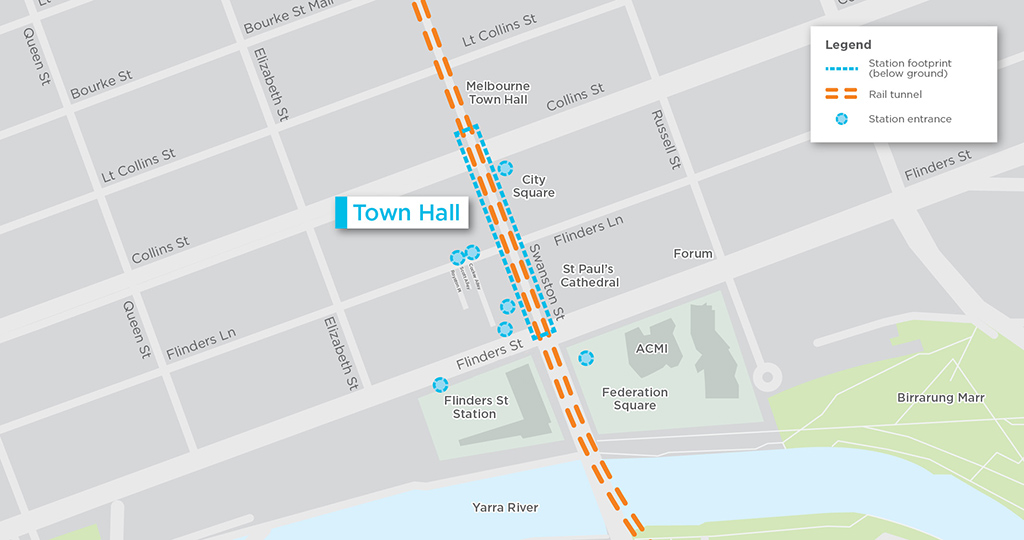 Town Hall Station will be located under Swanston Street, between Flinders Street and Collins Street. It will include an underground passenger connection to Flinders Street Station, allowing commuters to conveniently interchange between Metro Tunnel and City Loop train services without having to touch off and on again.
Passengers will be able to access the station from 7 entry points - at City Square, Federation Square, Campbell Arcade, Flinders Street, Swanston Street, Cocker Alley and Scott Alley.
Construction look ahead for 2023
Inside Town Hall Station
Click and drag the video to look around the Town Hall Station site. For iPhone, watch in YouTube.
Construction photos
More information