The Bendigo and Echuca Line Upgrade will deliver 3 new stations, faster and more frequent services to Echuca, and more services for Epsom and Eaglehawk.
Project overview
The Bendigo and Echuca Line Upgrade includes:
a modernised electronic train order (ETO) system
10 level crossing improvements between Bendigo and Eaglehawk
track upgrades between Epsom and Echuca
a business case for track upgrades between Bendigo and Kyneton to deliver trains every 40 minutes in the off-peak
a planning study for the reopening of Harcourt Station.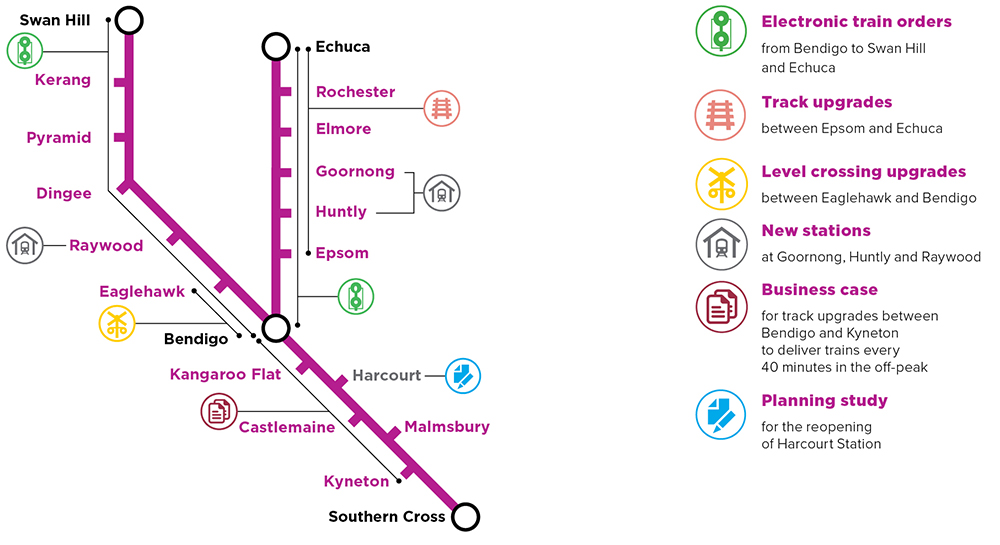 Project benefits
The Bendigo and Echuca Line Upgrade will deliver Bendigo Metro 3, with new stations at Goornong, Huntly and Raywood to give people in these growing communities access to train services close to where they live.
The Victorian and Australian governments' additional investment in the Bendigo and Echuca Line Upgrade will deliver a modernised electronic train order system – the first of its kind in Victoria – to enable more frequent services between Epsom, Eaglehawk and Bendigo as part of Bendigo Metro Stage 2.
This investment enables the delivery of 2 new weekday return services to Echuca – 1 more than originally committed - tripling the number of services on the line, to provide locals and visitors with more frequent and reliable train services.
10 level crossings between Eaglehawk and Bendigo will also be upgraded with better train detection technology, boosting safety and allowing more services to run in this section.
The Bendigo and Echuca Line Upgrade will allow trains to and from Echuca to run faster in addition to delivering extra services.
We are combining the delivery of Bendigo Metro 2 and 3 to maximise benefits and efficiencies during construction, to deliver more frequent and convenient services to greatly improve connectivity across the region.
Bendigo Metro 3 also includes a planning study for the reopening of Harcourt Station, and a business case to determine what is required to deliver a 40-minute train frequency between Bendigo and Kyneton.
Next steps
Work is underway on the 3 new stations included in Bendigo Metro 3.
Symal Infrastructure commenced construction of the new stations in 2021. These works are taking place alongside V/Line-delivered track upgrades which will increase the speed of trains between Epsom and Goornong.
Trains began travelling to and from the new station at Goornong on Sunday 12 December 2021.
Huntly Station is targeted for completion in mid-2022 and Raywood Station on the Swan Hill Line at the end of 2022.
V/Line, in conjunction with rail specialists Wabtec, will deliver the new train order system as part of the Bendigo and Echuca Line Upgrade, which will enable more services from Bendigo to Eaglehawk and Epsom, and triple the number of services to and from Echuca.
The new services will be introduced after the new system is completed in late 2022.
Project delivery
Rail Projects Victoria is responsible for the planning and delivery of the project.
Stay informed
We will keep passengers and the community updated as the project progresses via information sessions, letterbox drops, e-newsletters, advertising, website updates, social media and station pop-ups.