We're removing the dangerous and congested level crossings by lowering the rail line beneath the roads into an open trench and building a new premium station with better facilities and more services.
Construction is underway to remove the level crossings at Union Road, Surrey Hills and Mont Albert Road, Mont Albert and build a new, premium station.
We have carefully planned the works to minimise the disruption to the local community. Please be aware that:
access to Mont Albert Village businesses will be maintained during construction
no-construction parking zones will help ensure that most car spaces in the area continue to be available for shoppers and visitors
wayfinding signage and traffic management staff will be in place to help people move safely through the area
we'll complete as much work as we can while keeping the old stations open and the trains running, but there will be some periods where buses replace trains.
As part of our plan to keep car spaces available in the shopping village, we will confine any project-related use of car spaces to one section of the Hamilton Street car park, so that the majority of car spaces in the shopping precinct remain available for shoppers and visitors.
The rest of the car parks will remain open and on-street parking will be available on Hamilton Street and the surrounding streets.
This map outlines parking available in local streets to assist you in finding the parking you need to continue to shop local throughout works.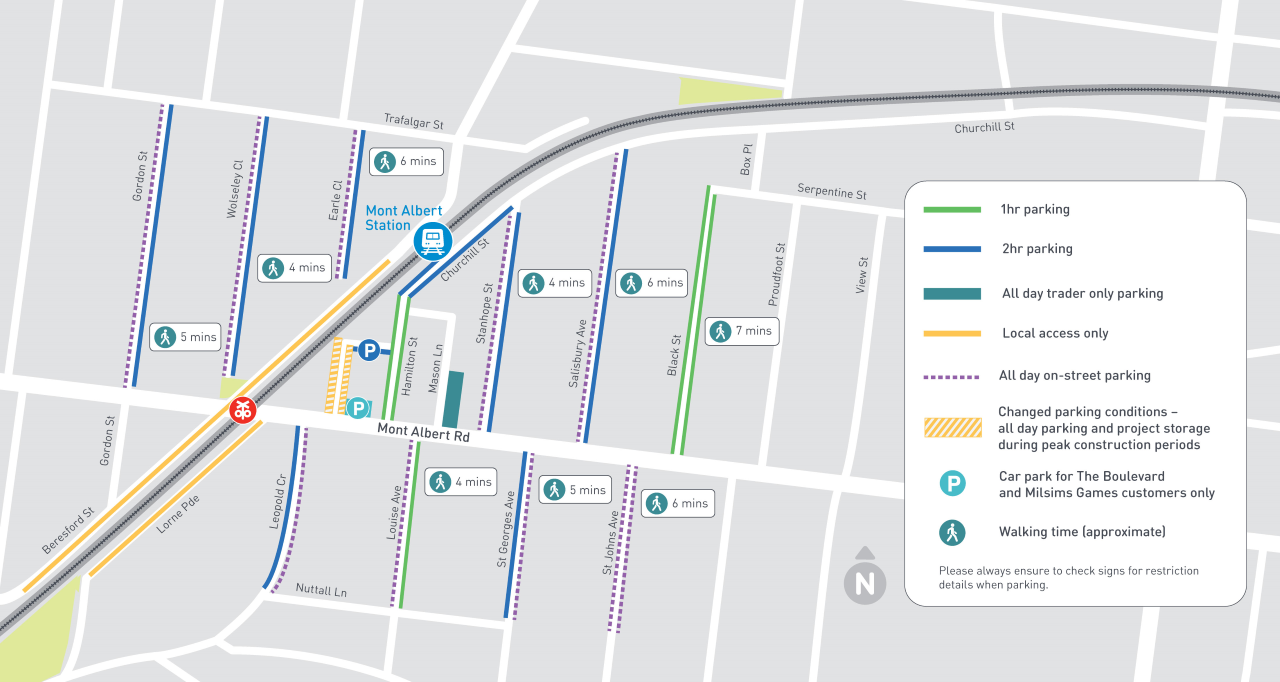 Shop local and support your traders
It's important to support local traders, and that's why we encourage the community and our workforce to shop local as much as possible.
Trader Directories:
Mont Albert trader directory PDF, 1.0 MB
Surrey Hills trader directory PDF, 981.4 KB
Follow your local traders
To stay up to date with your local traders or find out more about upcoming promotions, follow Mont Albert Village Traders on Instagram and Facebook!
Mont Albert Village Traders
Thank you for your patience while we work on the Mont Albert Road Level Crossing Removal Project.
View the Mont Albert open for business flyer PDF, 376.5 KB
View the Surrey Hills open for business flyer PDF, 411.7 KB