What's Victoria's Big Build?
At Victoria's Big Build, we're building state-shaping projects that will change the way that Victorians work, live and play.
We're made up of 6 project teams:
Level Crossing Removal Project – removing 110 dangerous and congested level crossings and delivering Geelong Fast Rail
Major Road Projects Victoria – easing congestion by building better roads and bridges
North East Link Program – building the biggest road project in Victoria - the missing link in Melbourne's freeway network
Rail Projects Victoria – delivering Melbourne Airport Rail, the Metro Tunnel and Regional Rail Revival
West Gate Tunnel Project – building an alternative to the West Gate Bridge, which will reduce congestion and remove trucks from residential streets.
Suburban Rail Loop – linking every major rail line in Melbourne, via Melbourne Airport. Note that Suburban Rail Loop has a separate graduate program application process from the other Victoria's Big Build Projects.
Delivering these massive projects takes multidisciplinary teams working collaboratively in a complex and creative environment. Does this sound like your ideal workplace?
---
About the Graduate Programs
Each year, we offer approximately 100 graduate roles across a wide range of disciplines.
Over a 2-year program, you'll undertake:
rotations in a range of business contexts (depending on your discipline and project team)
a structured learning and development program involving a range of professional and personal development workshops, site visits, project work, mentoring and experiential learning opportunities.
career planning to prepare you for the next step in your career.
During the application process you'll be asked to rank your project team preferences.
During the program, you'll develop your technical and professional skills, working alongside industry experts and learning from professionals who will be eager to help and guide you.
By joining one of our teams, you'll not only gain first-hand experience working on real projects, but you'll also be helping to make it easier for Victorians to get where they need to go quickly and safely.
We're proud to be in the country's top 10 most popular government employers, as recognised by Grad Connection and the Australian Financial Review. We were also ranked second in the Construction and Property services sector by the Australian Association of Graduate Employees.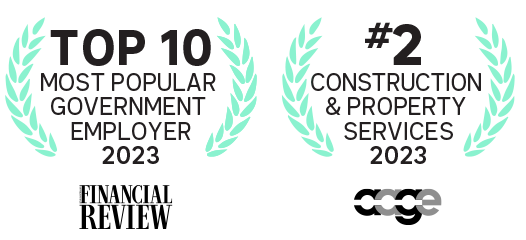 ---
Who are we looking for?
We're seeking graduates from a wide range of disciplines and backgrounds. To be eligible to apply, you must:
have completed your degree between January 2021 and January 2024
hold a bachelors or masters degree relevant to the role you're applying for
have full Australian working rights at time of application.
If you have completed a masters degree, you must have commenced your masters within 12 months of completion of your bachelors degree.
Unfortunately, we're unable to offer work sponsorship. If you cannot work legally in Australia, you are not eligible for these programs.
---
Graduate disciplines
Salary and conditions
When you join the program, you'll be employed full time at a salary of $74,580 + superannuation (effective from December 2023 – as per VPS EA 2020).
Each year, you'll be entitled to 20 days of annual leave and 15 days of personal leave.
Your workplace will depend on your 'home' project; however, you'll generally be located in Melbourne CBD. For those who wish, there may be an opportunity to work in regional Victoria, depending on project requirements.
On completing the program, you'll be well-placed to apply for vacant positions within Victoria's Big Build or with our external partners.
---
How to apply
To apply, you'll need your:
CV
academic transcript (if you haven't yet finished your degree or if you are waiting to graduate, please upload your unofficial academic transcript to date)
proof of working rights (for example, your passport)
order of project preference (if multiple projects are recruiting for your discipline).
Address your application to 'Victoria's Big Build Graduate Recruitment Team'.
---
---
Explore our projects
Find out more about the graduate experience on each project team:
For further questions about the Victoria's Big Build Graduate Programs, email gradprogram@bigbuild.vic.gov.au.