We are upgrading Waurn Ponds Station as part of the staged upgrade of the Geelong Line.
Project overview
A new platform and extra track at Waurn Ponds Station will allow trains to pass each other in this section, enabling more Geelong services to be extended to and from Waurn Ponds and helping to improve service reliability.
Station users will have new and improved car parking and an accessible overpass linking both platforms.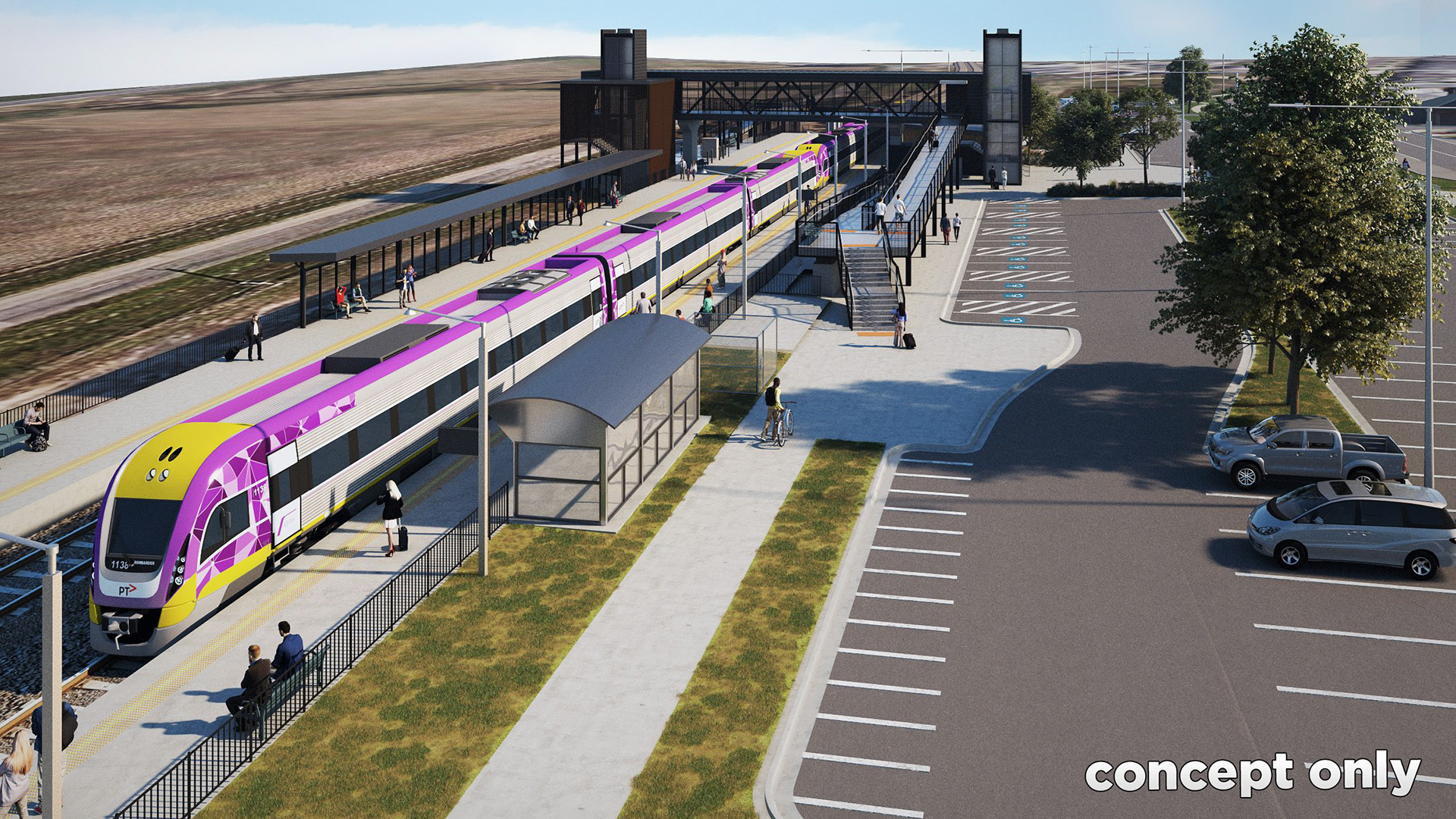 The Waurn Ponds Station upgrade includes:
a second platform on the south side of the station with shelters and seating
track duplication to enable trains to pass each other
a new accessible pedestrian overpass to provide access between the two platforms featuring lifts, ramps and stairs
secure bicycle storage and bicycle hoops
car park improvements featuring:

more than 90 new car parking spaces
sealing 120 existing gravel car parking spaces
more accessible car parking
new drop-off zone
access at both ends of the car park
additional CCTV, lighting, myki machines and passenger information displays.
Station layout

Progress update
Major works are complete on the Waurn Ponds Station upgrade.
Commissioning and critical safety testing will take place in 2022 to enable additional services for this part of the Geelong Line.
Works on the transformed station entrance are complete, with the new forecourt, drop-off zone, bike storage, and upgraded car parking spaces to open to the public in coming weeks.
The pedestrian overpass, ramps, stairs and lifts, as well as the second platform and track, will be operational after commissioning this year.
During the commissioning period the remaining 50-metre section of the duplicated track will be installed, following the relocation of a live signalling box from the rail corridor.
Construction impacts
Community feedback
In early 2019 we spoke to the local community about concept designs for the Waurn Ponds Station upgrade.
The community also gave us feedback on the additional track and new platform, CCTV and lighting, and car park improvements at Waurn Ponds Station.
The responses provided were considered in the planning and design of the upgrade for the Waurn Ponds Station upgrade.
You can read about the community feedback in detail (PDF, 156.9 KB).
Stay informed
As the project progresses, we will keep passengers and the community updated via information sessions, letterbox drops, e-newsletters, advertising, website updates, social media and station pop-ups.
Videos