We're building an electrical substation in South Yarra to prepare the rail network for the Metro Tunnel.
Enhancements and power upgrades are needed on the Cranbourne/Pakenham lines to prepare Melbourne's rail network for High Capacity Metro Trains and increase the frequency of rail services.
Upgrading the power now will future-proof the power supply for future rail network upgrades and more frequent services at South Yarra Station on the Sandringham and Frankston lines.
The electrical substation will provide the power needed to operate the new trains through the Metro Tunnel.
Construction
Construction of the new South Yarra substation began in November 2020. Works include:
piling and capping works
soil nailing, shotcreting and drainage works
demolition of the existing ramp within the Siding Reserve site, and bulk excavation
piling and construction of the substation base slab and retaining walls
construction of the substation walls, columns and roof, retaining walls and building works
The second stage of construction will involve underground cable installation works, overhead line works, and testing and commissioning. These works are expected to be completed by mid-2022.
Location
The substation will be located underneath the South Yarra Siding Reserve near the eastern entrance to the Metro Tunnel.
This was selected as the preferred location following a comprehensive review of land options according to stringent technical requirements and a strong desire to reduce overall impacts to the South Yarra precinct.
This location prevents compulsory land acquisition, and the need to construct the substation above ground beside residential properties.
It will also significantly reduce the impact of the substation on visual amenity and available public open space.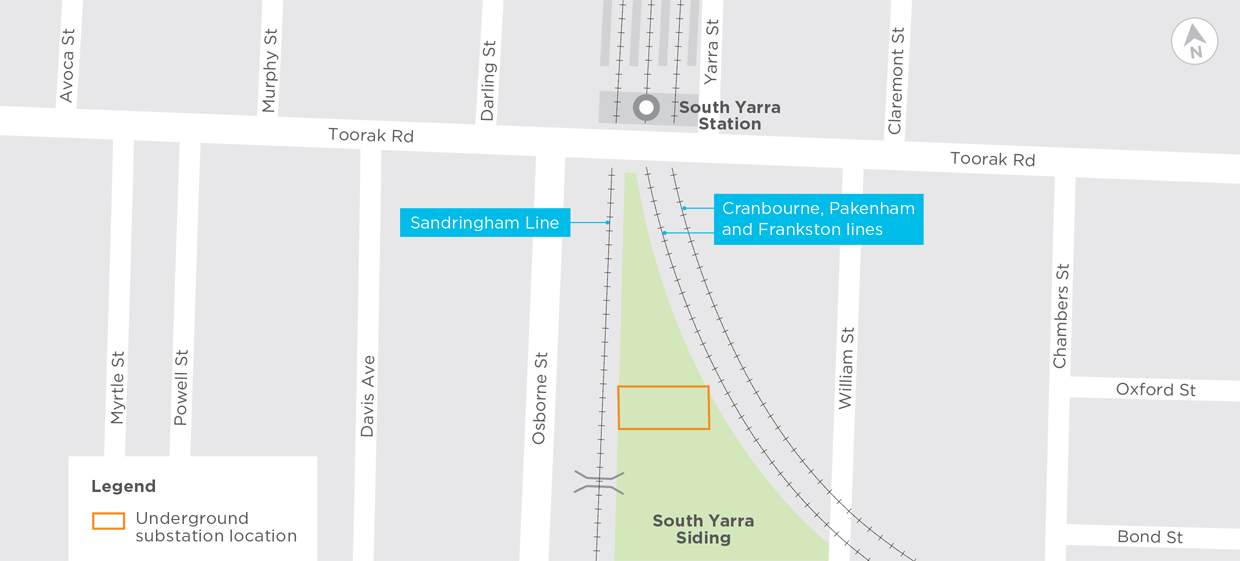 Frequently asked questions