Along with delivering a new rail service connecting Victorians to the airport, Melbourne Airport Rail will also deliver safer connections for pedestrians and cyclists.
Improvements to walking and cycling connections that will be delivered as part of this project include:
Fullarton Road shared use path
Upgrades to the shared use path along Fullarton Road in Airport West will maintain connections to the broader walking and cycling network.
Shared use overpass in Sunshine North
A safe and accessible shared use overpass will also be built over the rail line in Sunshine North.
The new overpass will replace the existing pedestrian crossings at Barwon Avenue and Drake Street, providing pedestrians and cyclists with a safe way to cross the rail corridor.
This area of the rail line will also be fenced to keep the community safe.
Shared use path at Albion Station
As part of the Sunshine to Sunbury cycling corridor which currently finishes at Albion Station, a new shared-use path will be delivered near Albion Station to connect to on-road cycling infrastructure at St Albans Road.
Future shared use connections
The missing link at Tullamarine between Fullarton Road and Sharps Road will also be addressed. Between Keilor East and Melbourne Airport, a new shared use path near Steele Creek will extend from the M80 Trail to Tullamarine Park Road.
A connection under Airport Drive to the south of Tullamarine Park Road will be built with a pedestrian-operated signal to cross Tullamarine Park Road, and another connection along the east side of Airport Drive to Sharps Road will connect into the existing Airport Drive shared use path.
The project team is working with stakeholders including VicRoads, Bicycle Network Victoria and local councils to explore opportunities for future shared use network connections.
For more information view the walking and cycling fact sheet.
Fullarton Road concept image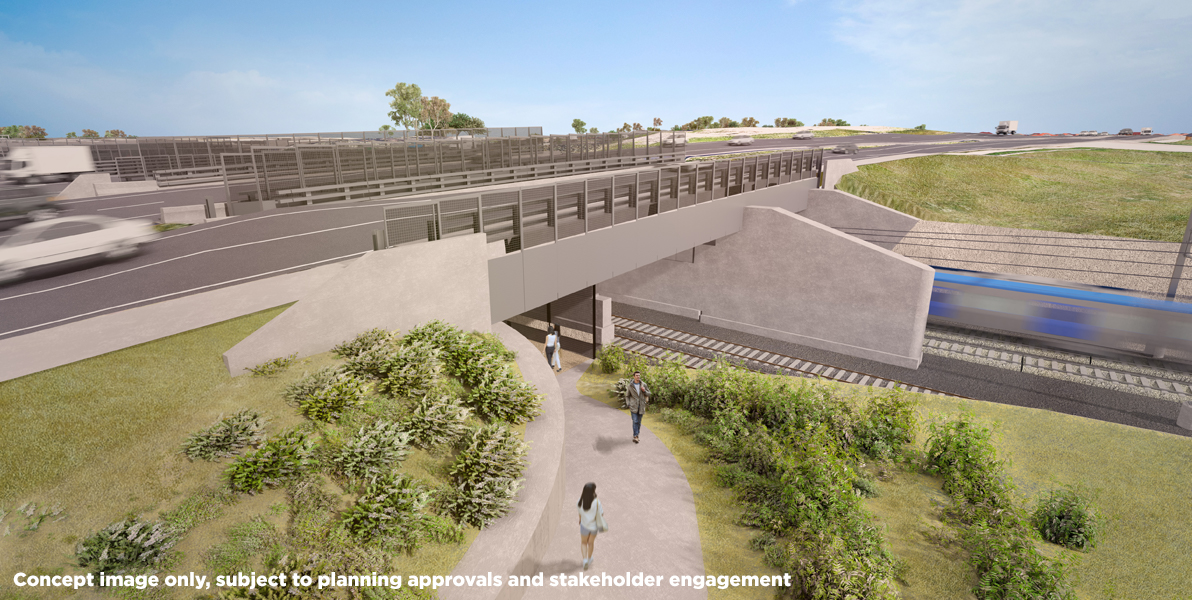 Active Transport Links map