Melbourne Airport Rail will connect Melbourne Airport to Victoria's regional and metropolitan train network for the first time.
The Australian and Victorian governments have committed $5 billion each to deliver Melbourne Airport Rail, which forms a key part of Suburban Rail Loop – the new orbital rail line between Cheltenham and Werribee.
The Melbourne Airport Rail Business Case has been released, showing the significant benefits the project will bring – better connecting people in Melbourne and regional Victoria to the Airport and the world.
Early work on the project has now begun, while further planning and development work continues on the project.
Melbourne Airport Rail (SLR Airport) is due to open in 2029, subject to relevant Victorian and Federal planning, environmental and other government approvals.
Learn more about the project benefits and view the project timeline.
Project route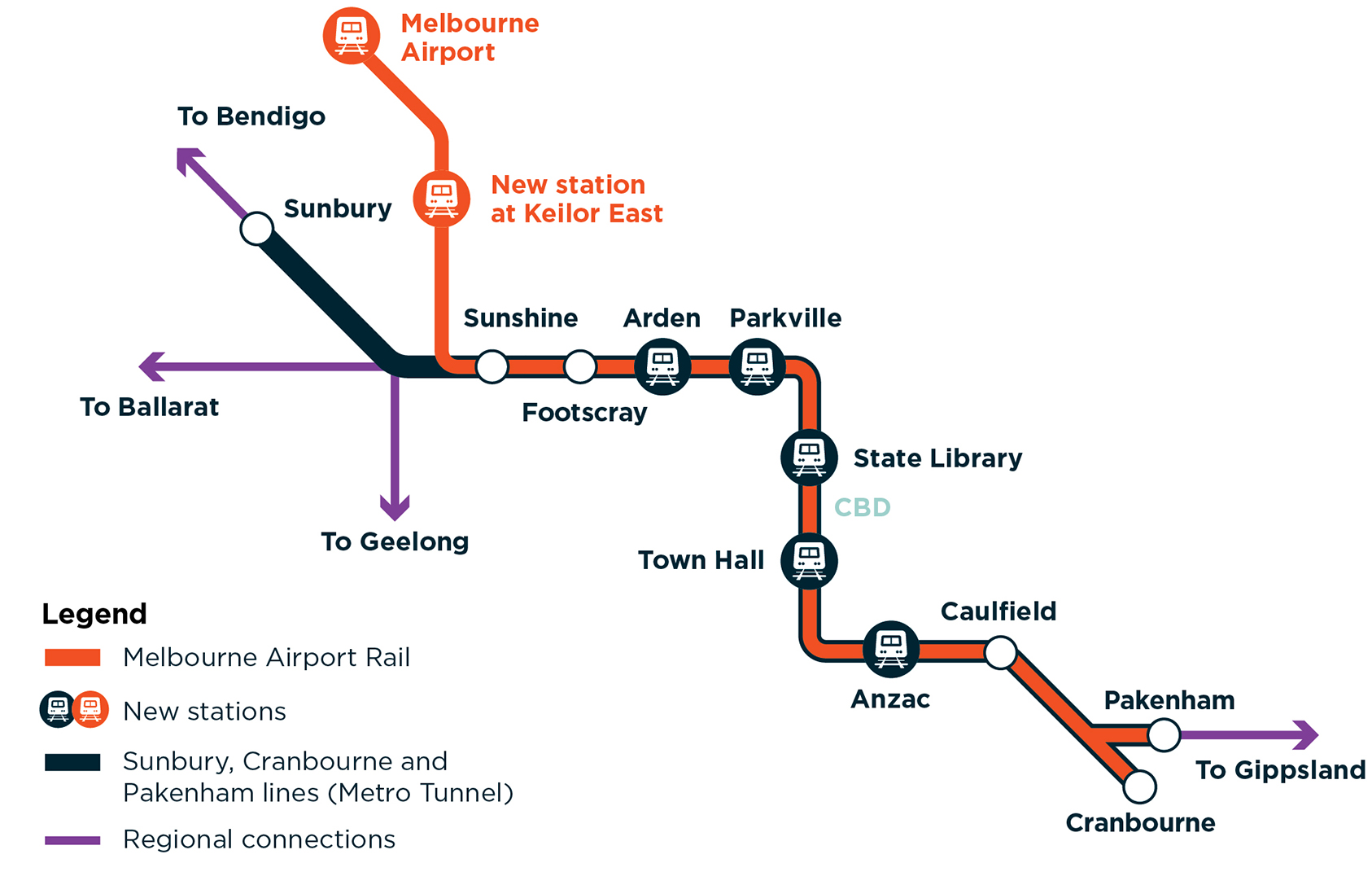 Trains will run from Melbourne Airport through to Sunshine Station, then into the Metro Tunnel and the heart of the CBD, before continuing on to the Cranbourne and Pakenham lines.
New dedicated tracks will be constructed along the existing Albion-Jacana freight corridor between Sunshine and Airport West. The tracks will divert off the freight corridor crossing the Western Ring Road (M80) and head towards the airport following Airport Drive, before arriving at a new premium train station at Melbourne Airport.
As a result of community feedback and rapid growth in the west, we will be building a new station at Keilor East. It will provide a much-needed public transport option for the growing communities in the area.
Albion Station will also be rebuilt to become a modern and accessible station. It will provide an important boost to this growing precinct.
The Strategic Appraisal (PDF, 749.5 KB) found that the Sunshine route performs better than other route options that were considered.
Compared to the other options, the Sunshine route provides:
superior connections to more areas of Melbourne through its integration with the Metro Tunnel
superior connections to regional Victoria through an upgraded Sunshine interchange
earlier deliverability at a lower cost.
This finding is consistent with the recommendation of the 2012 Public Transport Victoria study.
Business Case
The Melbourne Airport Rail Business Case presents extensive analysis which demonstrates Melbourne Airport Rail is the most appropriate solution to respond to the transport connectivity challenge to Melbourne Airport.
Project scope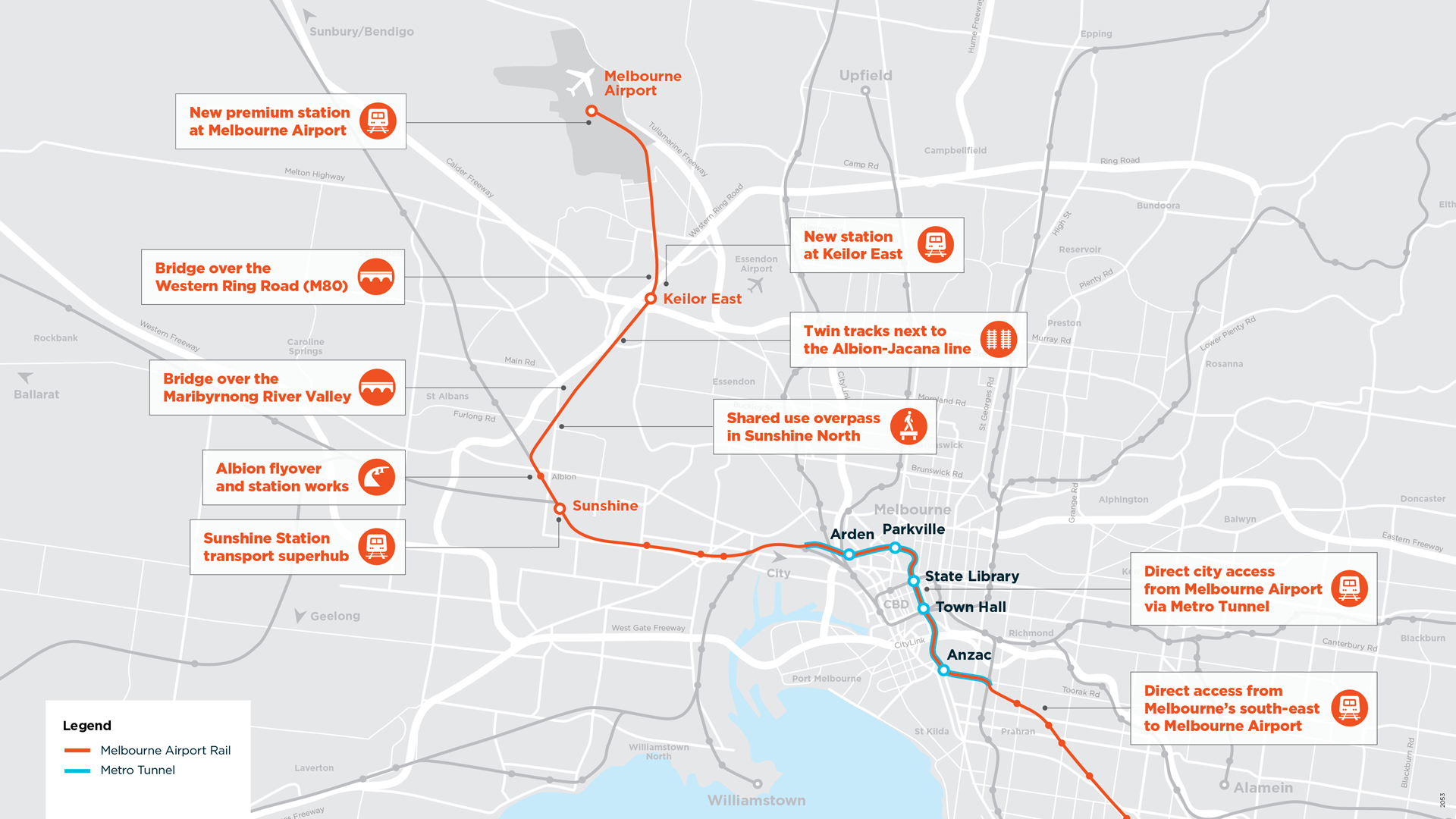 Proposed scope as part of Melbourne Airport Rail includes:
Project delivery
Rail Projects Victoria is responsible for planning and development of project reference design, site investigations, stakeholder engagement, planning approvals and procurement, through to the construction delivery and project commissioning phases.
Delivering projects of this scale and complexity requires a blend of public sector and private sector experience and Rail Projects Victoria is utilising both employees and contractors, with support from external expert advisors.
Aurecon Jacobs Mott MacDonald Joint Venture (AJM JV) has been appointed as a technical advisor and KPMG has been appointed as a commercial advisor for Melbourne Airport Rail.