The Ballarat Line Upgrade is the first line upgrade to be completed as part of the $4 billion Regional Rail Revival program.
Project benefits
The Ballarat Line Upgrade has enabled 135 extra services in total across the project along the Ballarat Line, including trains every 20 minutes during the peaks and 40 minutes between the peaks, to service the growing communities in the region.
The project has delivered the critical infrastructure needed for the new services, including track duplication, passing loops, signalling upgrades, new platforms and extra track at key stations.
Passing loops at Ballan and Millbrook are in operation, and provide more options for trains to pass each other in these sections, allowing more frequent services and helping services recover faster from unexpected delays.
The 18km of track duplication between Melton and Deer Park West has helped to boost reliability along the entire line.
The project also delivered a new station at Cobblebank and major upgrades at Rockbank, Ballan, Bacchus Marsh and Wendouree stations.
Upgrades at Wendouree Station allow trains to pass each other here for the first time, so passengers on delayed services from Melbourne are less likely to be transferred to replacement coaches at Ballarat.
Passengers at Rockbank, Ballan and Bacchus Marsh are enjoying more accessible and comfortable stations, with pedestrian overpasses featuring lifts and ramps, better lighting and CCTV, improved car parks and better bike storage.
Bacchus Marsh passengers also have 100 extra parking spaces, while the Rockbank Station rebuild included a new car park with 350 spaces.
Trains and passengers are now using the new second platforms at Ballan, Bacchus Marsh and Wendouree stations.
Service benefits are being delivered along the length of the Ballarat Line including:
the new Cobblebank Station and rebuilt Rockbank Station have 225 and 210 extra services respectively stopping at these locations each week, along with more than 200 extra services at Deer Park Station
an extra 100 new weekly services for passengers to and from Ballarat Station
the upgraded Ballan Station sees 100 new services available for passengers each week, with 110 new services for Wendouree Station
Melton Station passengers can access an extra 140 weekly services stopping at the station, and Caroline Springs 125 new services
Bacchus Marsh passengers have 25 new services to choose from, with all trains from Ballarat now stopping at the station, which will provide more express services between Bacchus Marsh and Southern Cross Station.
Project scope
The Ballarat Line Upgrade included:
duplicating 18km of track between Deer Park West and Melton
building a new Cobblebank Station, between Rockbank and Melton, separately funded by the Victorian Government's Growth Area Infrastructure Contribution
rebuilding Rockbank Station, including new, longer platforms, a pedestrian overpass and a car park with 350 spaces
upgrading Bacchus Marsh Station including a new platform, pedestrian overpass and 100 new car park spaces
upgrading Ballan Station including a new platform, pedestrian overpass and a new car park on the southern side of the station
upgrading Wendouree Station including a new platform, pedestrian overpass and extra track
duplicating track at Bacchus Marsh
building a new stabling facility at Maddingley
building passing loops at Ballan and Millbrook
signalling upgrades and track improvements
decommissioning the Bungaree passing loop and removing 5 level crossings.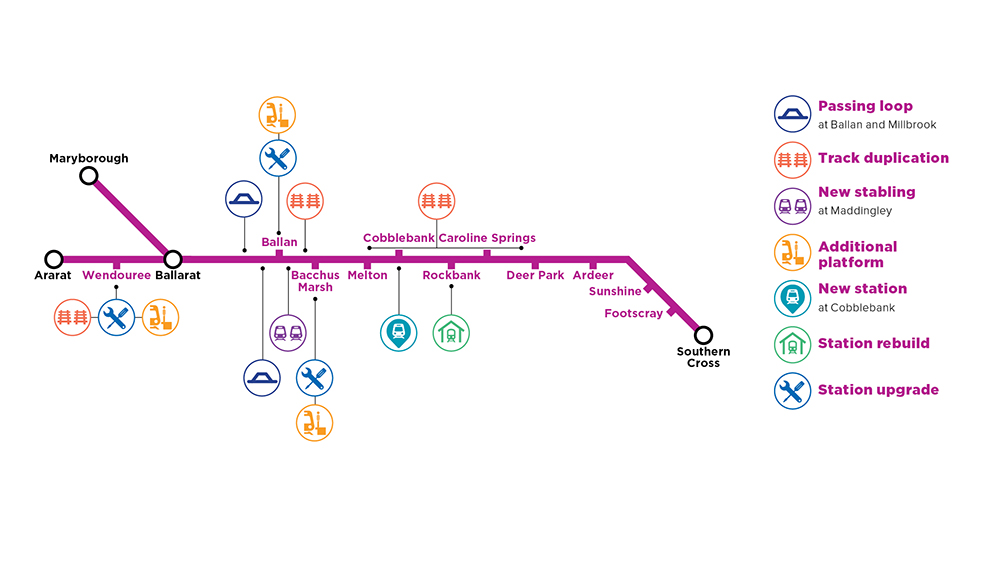 Project delivery
The Ballarat Line Upgrade was delivered by Rail Projects Victoria (RPV), on behalf of the Victorian Government.
The construction contractor for the Ballarat Line Upgrade was a consortium comprising ACCIONA, Coleman Rail and SMEC, in partnership with RPV and V/Line.
More than 1.6 million hours were worked on the Ballarat Line Upgrade since construction began in late 2017.
Project newsletters