Temporary but extended road and lane closures to travel routes into and around the city will be in place during construction.
People may need to consider changes to their routes to avoid and minimise delays. We thank cyclists for their patience and understanding.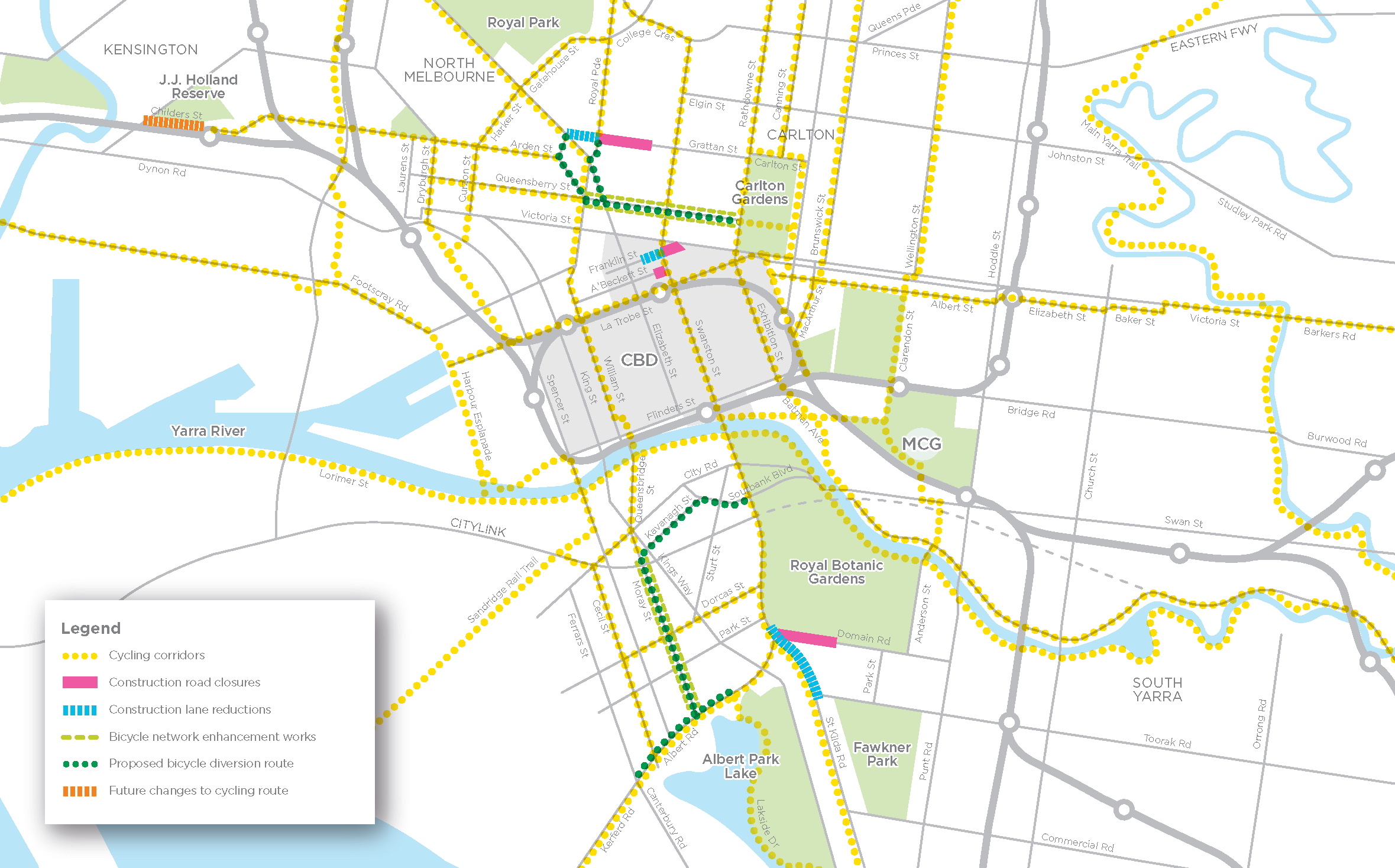 Changes to cycling routes
La Trobe Street
To enable the construction of the State Library Station, the La Trobe Street eastbound cycle lane between Elizabeth and Swanston Streets is closed. with cyclists detoured to Little Lonsdale Street.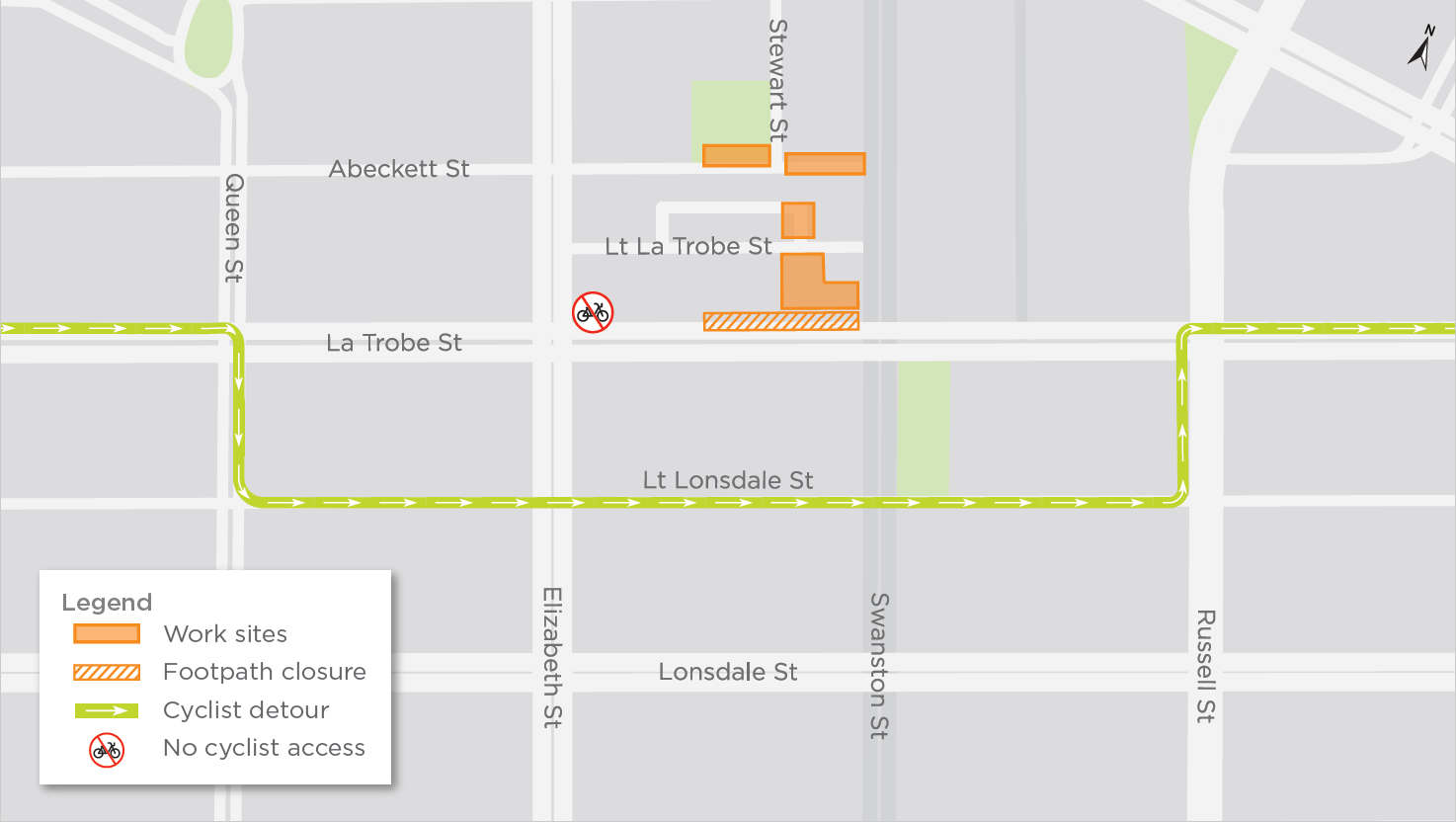 Grattan Street
To enable the construction of the Parkville Station, Grattan Street (between Royal Parade and Leicester Street) closed to traffic in February 2018 for up to 5 years. There is no on-road bicycle access. Pedestrian access has been maintained along Grattan Street with some diversions in place for cyclists.
Franklin Street and A'Beckett Street
Franklin Street, between Victoria Street and Swanston Street, and A'Beckett Street, between Swanston Street and Stewart Street, were closed to traffic and cyclists in January 2017 for the start of works on the State Library Station.
Domain Road
To enable the construction of Anzac Station, Domain Road has closed between St Kilda Road and the western edge of Edmund Herring Oval for approximately 5 years from mid-2017. Vehicles and cyclists are not able to access this section of Domain Road.
St Kilda Road
In February 2018, St Kilda Road was temporarily reconfigured to one traffic lane in each direction between Dorcas Street and Toorak Road West for up to four years. Tram, pedestrian and bicycle access will be maintained as the new Anzac Station is built under the roadway.
Childers Street
To enable construction of the western tunnel entrance, Childers Street is partially closed to traffic. Cyclists will be detoured via Kensington Road and Altona Street.
Other road changes
There will be other temporary changes to local cycling routes along the Metro Tunnel alignment during construction, including in Kensington, Arden, Parkville, the CBD, Domain and South Yarra to help facilitate construction. These changes will be communicated to cyclists well in advance of works starting.
Enhancing the bicycle network
A number of initiatives are being delivered across the bicycle network to help keep cyclists moving, including redesigning some intersections and road layouts. These changes are underway at a number of locations.
Queensberry Street, Carlton
Works have been completed on Queensberry Street, between Elizabeth Street and Rathdowne Street, to allow traffic to flow more efficiently through the north of the city. The bicycle lanes on both sides of Queensberry Street have been improved, providing a dedicated route for cyclists. Green coloured road markings have been applied between intersections to increase the visibility and awareness of the bicycle lane to drivers and cyclists.
Moray Street, South Melbourne
The Moray Street bike path has been upgraded to provide cyclists with a convenient alternative route to St Kilda Road. The existing Moray Street bicycle lane was improved between Albert Road and Queensbridge Street and includes safer connections to the Kavanagh Street and Queensbridge Street bike paths. Intersections were made safer using extended kerbs and raised zebra pedestrian crossings, and the changes involve a reduction in speed limit to 40km/h.
Canterbury Road/Ferrars Street and Albert Road/Kerferd Road intersection
The intersections at these locations are being upgraded to improve safety and connectivity for cyclists to the upgraded Moray Street bike lanes.
Other cycling infrastructure projects
VicRoads, City of Melbourne, City of Port Phillip and City of Stonnington will continue to deliver cycling infrastructure projects during construction of the Metro Tunnel Project. Rail Projects Victoria (RPV) is working closely with local councils and other government agencies to manage construction impacts on cyclists.