Project overview
The Gippsland Line Upgrade includes:
building a new rail bridge over the Avon River in Stratford, which is now complete
second platforms and station amenity improvements at Bunyip, Longwarry, Morwell and Traralgon stations
track duplication at Bunyip and Longwarry
extension of the Morwell crossing loop
level crossing upgrades
signalling upgrades
drainage structure upgrades along the line.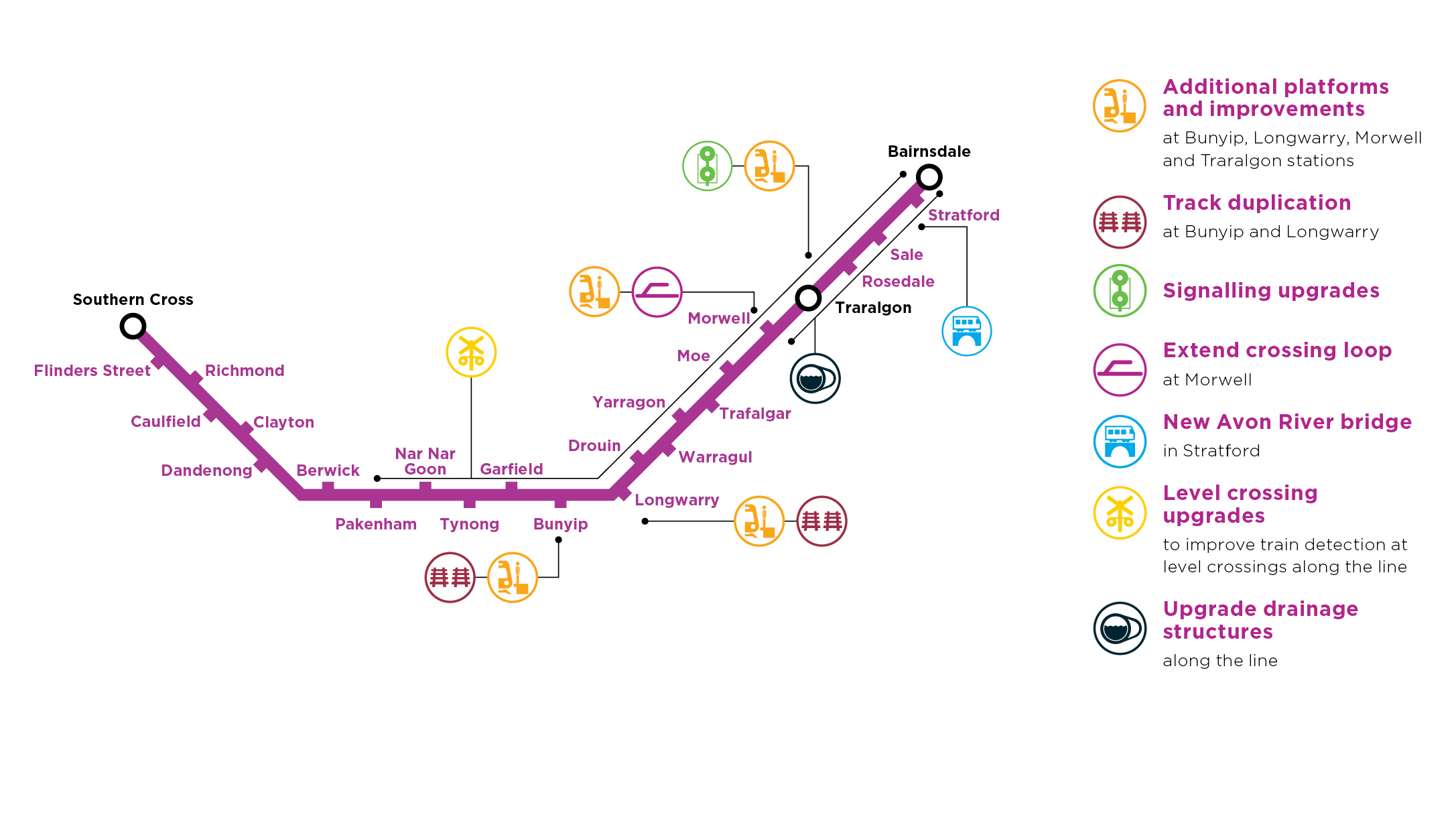 Project benefits
The project has already delivered benefits for passengers on the Gippsland Line, with upgrades to level crossings between Sale and Bairnsdale allowing VLocity trains to run to and from Bairnsdale for the first time.
The new Avon River bridge in Stratford, which is already complete, allows trains to travel faster in this section – they no longer need to slow down to 10 km/h.
The Gippsland Line Upgrade will enable much needed extra services between the peaks between Traralgon and Melbourne, as track duplication, a crossing loop extension and second platforms at stations will provide more opportunities for trains to pass each other.
Improvements to accessibility and amenities at Bunyip, Longwarry, Morwell and Traralgon stations will also be made to give passengers better journeys. Train detection upgrades at level crossings along the line will improve safety for motorists and train passengers.
Upgrades to drainage structures will mean trains can continue to operate efficiently and improve infrastructure resilience along the Gippsland line. The project also includes a Victorian-first trial of solar-powered wireless level crossing detection technology at Farrells Lane in Stratford.
The project will create more than 500 jobs and Rail Projects Victoria will establish a local project office in the Latrobe Valley. The project will also create opportunities for local social and Aboriginal contractors and suppliers, boosting the local economy.
Next steps
Construction of the new rail bridge over the Avon River has been completed 3 months ahead of schedule, with trains now travelling on the new structure.
Works on the Gippsland Line Upgrade's major package of works between Pakenham and Traralgon are underway, with site establishment progressing at Bunyip and Longwarry ahead of major construction commencing.
The project is targeted for completion in late 2022.
Local industry
Industry briefings were held in May and June 2020 to inform local contractors and suppliers on upcoming opportunities to participate in the project.
Opportunities for local suppliers and contractors are now available.
Local suppliers to submit an expression of interest via the GROW Gippsland platform to get involved and help deliver this major package of works.
Local supplier involvement is a key element of the Gippsland Line Upgrade, and right across the Regional Rail Revival program.
Find out more about supplier opportunities available across the Gippsland Line Upgrade.
Community feedback
In early 2019, we asked the community to provide feedback on the Gippsland Line Upgrade.
The community provided feedback on the track, signalling and station amenity upgrades between Pakenham and Traralgon.
The feedback received is being considered in the planning and design of the Gippsland Line Upgrade.
You can read about community feedback in detail (PDF, 629.1 KB).
Project delivery
The Gippsland Line Upgrade is being delivered by Rail Projects Victoria on behalf of the Victorian Government.
The construction contractor for the project is VicConnect, a consortium comprising UGL Limited, Decmil and Arup.
Find out more about supplier opportunities for the upgrade of the Gippsland Line.
Stay informed
We will keep passengers and the community updated as the project progresses via information sessions, letterbox drops, e-newsletters, advertising, website updates, social media and station pop-ups.