This new Metro Tunnel station in North Melbourne is part of plans for urban renewal in the broader Arden-Macaulay precinct.
Over the next 30 years it is expected that the area will become home to 15,000 residents and more than 34,000 jobs, directly connected to the train network via the Metro Tunnel.
The station will have a direct link to Melbourne Airport in 2029 via Melbourne Airport Rail.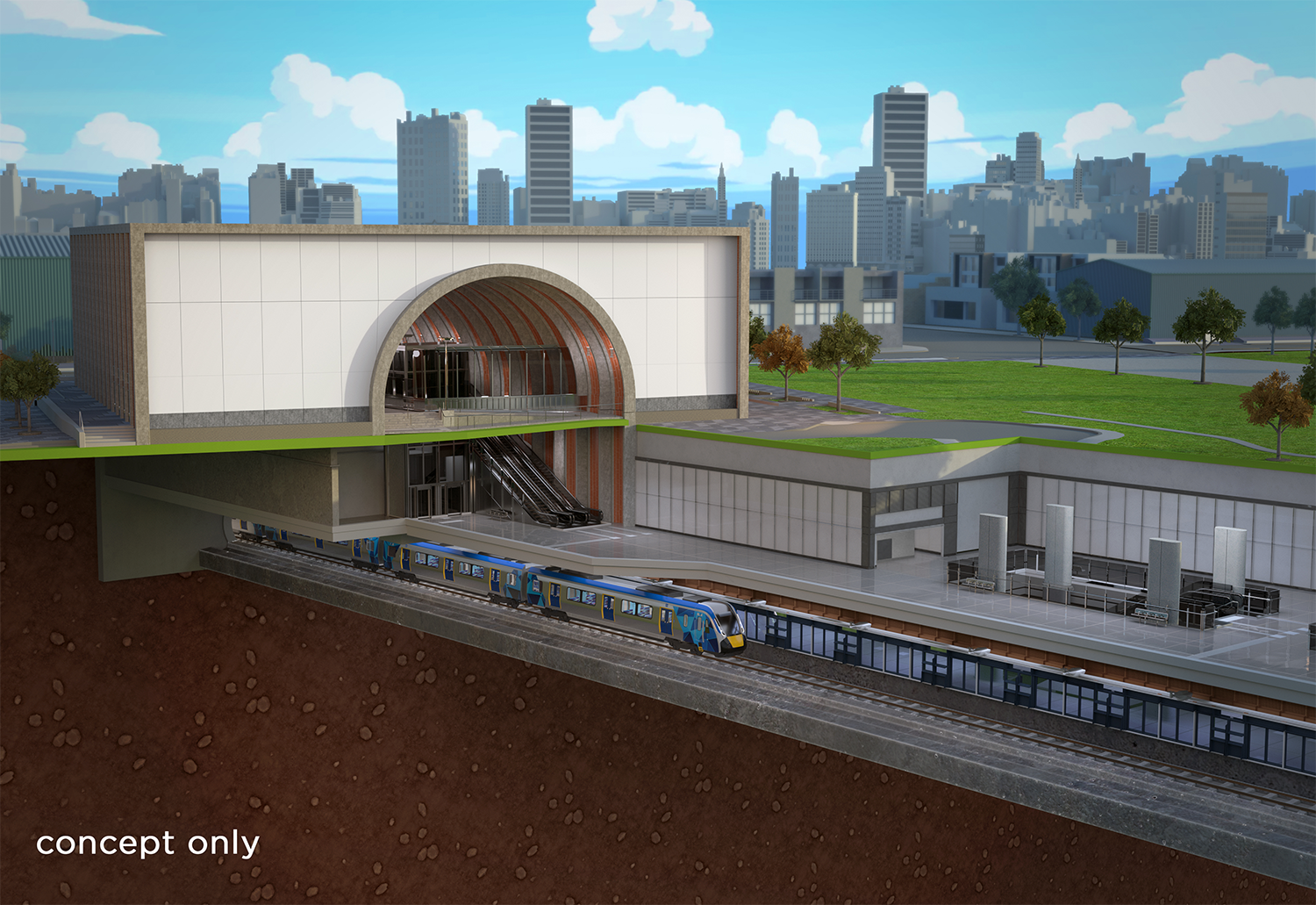 Easy to access
The new station will be located near the corner of Arden and Laurens streets. The station entrance will be located on Laurens Street, between Queensberry and Arden streets to provide direct access to existing residential, retail and commercial areas east of Laurens Street.
Provision will be made for a future additional entrance at the western end of the station that could service the Arden Precinct area as it develops in the future.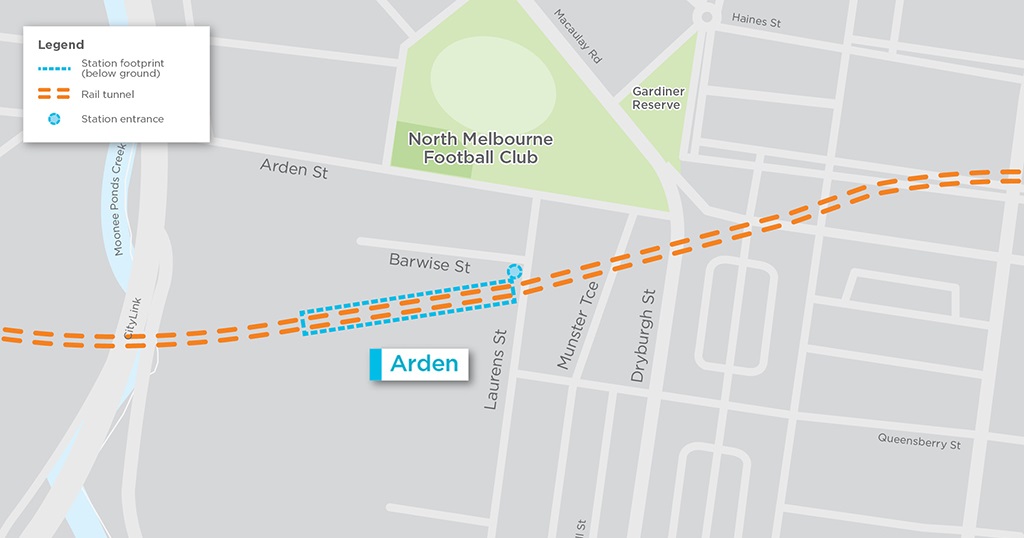 Design
The Metro Tunnel station will set the tone for urban renewal and will reflect the industrial character of inner North Melbourne. Its design will reference Arden's rich industrial history through the use of materials such as clay brick, bluestone, timber, steel and glass. The design features 15 soaring brick arch segments, featuring more than 100,000 bricks that were manufactured in Victoria.
The station will include a café with terraces for outdoor dining. Public seating, garden beds and lawn areas will provide a new gathering place for locals and passengers to enjoy.
As the broader Arden precinct is susceptible to flooding, the station entrance has been raised 1.5m above the existing ground level.
Laurens Street will be upgraded to become a more pedestrian and public transport-oriented street with additional tree planting. Barwise Street will be transformed into a greener, more pedestrian-friendly laneway while maintaining access for existing properties.
Getting to and from Arden Station
Arden Station will be within walking distance of the North Melbourne Recreation Centre, Arden Street Oval and the existing route 57 tram, providing the opportunity to create a truly sustainable transport precinct.
Central to achieving this objective is making it easy for passengers to arrive and leave the new station on foot, bicycle, taxi or car. Station access features include:
dedicated pedestrian crossings on Arden Street and Laurens Street to prioritise pedestrian safety in and around the station precinct
new drop-off zones and taxi bays located directly outside the station on Laurens Street
more than 120 bike parking spaces
universal access parking bays conveniently located near the station entrance.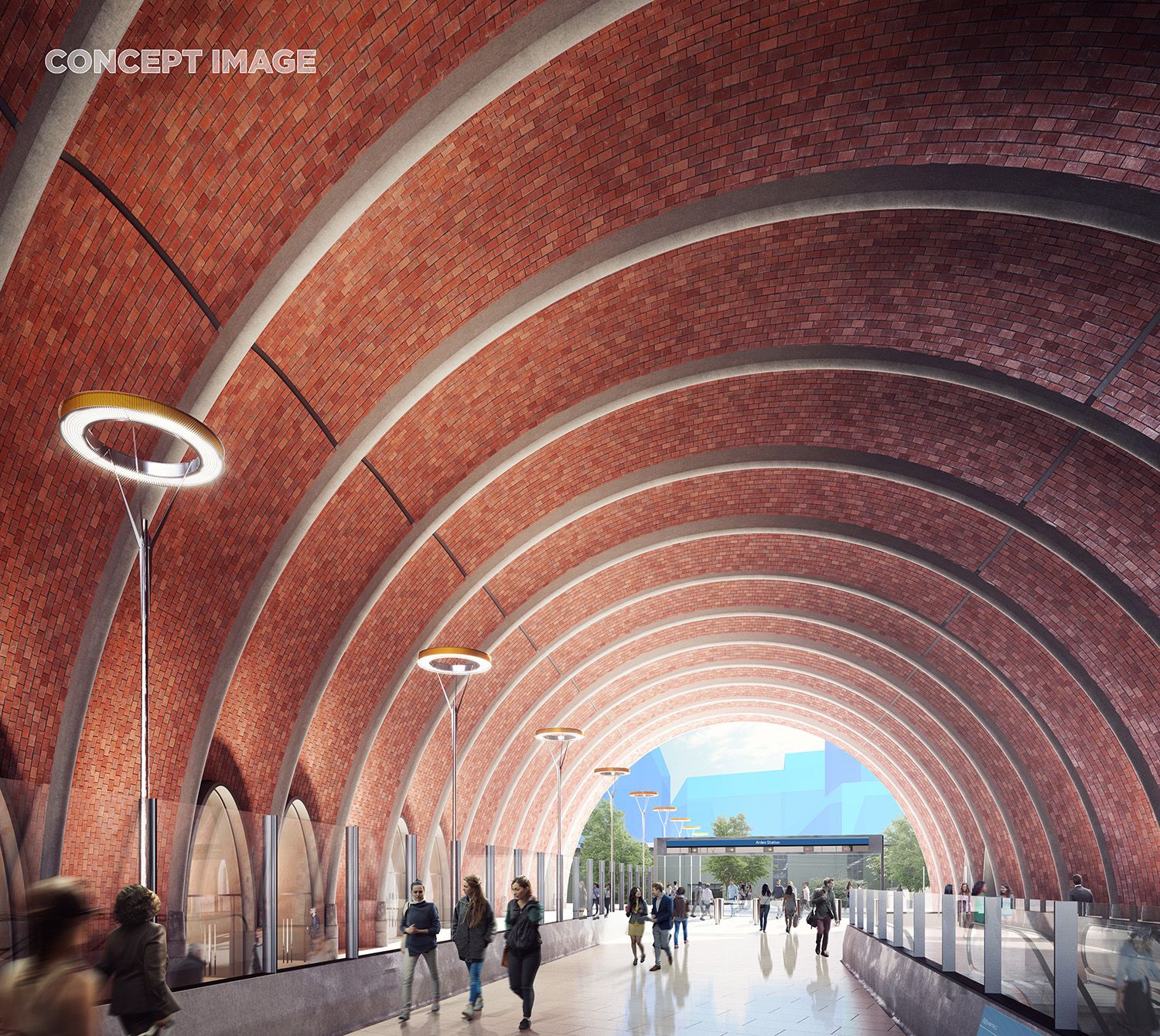 Key features
Greening the area
The new station precinct will provide new landscaped public space featuring predominantly native species.
A new station plaza will provide a bright, safe and welcoming place for passengers and the community to enjoy.
Sustainability features include tree pits and garden beds in the station plaza and the planting of more trees to capture stormwater, provide shade and assist with air quality.
Water sensitive urban design
Recognising that the broader Arden precinct is prone to flooding, designs for the new station ensure that stormwater runoff is slowed and collected for re-use via rain gardens, street planters and other water-sensitive urban design. For example, drainage at the station has been designed to capture the natural flow of rainwater and distribute it into nearby garden beds.